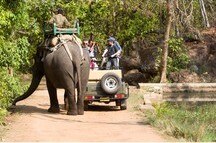 Rs.37,999
Rs.34,200
per person
DEAL
Exclusive Online Offer: Book now & Get Rs. 7599 Off for 2 travellers on booking through ..
Know more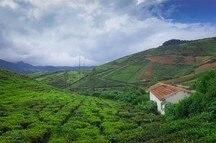 Rs.51,999
Rs.46,800
per person
DEAL
Exclusive Online Offer: Book now & Get Rs. 10399 Off for 2 travellers on booking through..
Know more
Call us toll free :1800-103-8800
About Ooty – THE QUEEN OF THE BLUE MOUNTAINS
There is nothing better than good weather all year round, a whole lot of stunning greenery and an endless ride through the 'blue' mountain ranges known as The Nilgiri Hills. If these mere scenic descriptions fall short of your expectations, feel free to get mesmerised by hair-raising, adrenaline-pumping curves that stay dangerously inches away from deep ravines: stunning hill slopes lush with pine woods and high altitude vegetation. The narrow winding roads in the wildlife reserve forests offer the delight and thrill of spotting one of the animals in the sanctuary from deer to tigers to elephants any moment. The gurgling streams and landscaped tea gardens are a special visual delight to travel weary eyes and they are the official tour guide to welcome you to Ooty, the queen of hill districts.

Located in the Nilgiri Mountains, Ooty is one of the best hill stations in India and a popular tourist destination in southern India. Also known as Udhagamandalam, Ooty is a host to nature's splendid beauty and unexploited wonders, dotted by age-old and contemporary tourist destinations. With round the year pleasant weather, the only thing standing between you and your Ooty tour is chalking out the perfect plan on how to go about the journey. MakeMyTrip offers travellers a collection of Ooty tour packages presenting trips to your holiday destination at the best prices. You can also check out the website for some useful Ooty tour guide.
Best time to visit

In contrast to the pertinent tropical climate of most South Indian locations, Ooty enjoys a sub-tropical highland climate – the place seems to be engulfed in a blanket of eternal spring. The average temperatures are accounted from a record high of 25 °C to summer temperatures ranging from 11-23 °C and average winter temperatures from 5-20 °C. A lightly blowing breeze, cloud covers and a chilly weather are some of the consistent things you will find on your visit to Ooty.

The place is full of scenic locations: adventure, leisure and sightseeing are the main forms of tourism in these areas. You can arrive at Ooty and enjoy a fabulous vacation with your family or honeymoon with your partner, irrespective of the weather. The best times to visit as recorded by footfall, are in the months of April to June and September to November. Choose from a wide variety of Ooty packages available on the MakMyTrip website.

March to June constitute the summer months favourable for adventure lovers and outdoor activities. The months of July, August and September receive the heaviest rainfall, thereby disrupting daily sightseeing and adventure activities. But nature lovers and photographers find this period to be the perfect time to catch the fresh post-shower beauty of the place and its rich biodiversity in still-frames. The months from October to February involve chilling winters, making for a perfect setting for married couples. If you are a honeymooner, this is the best time to head over to this hill station by booking the best Ooty tour package for couple from MakeMyTrip.

How to reach Ooty
Ooty is accessible directly by roadways, railways and indirectly by airways from the neighbouring cities. The nearest airport is located at 88kms from Ooty. The airport in Coimbatore is well connected to other cities in India and homeland tourists can easily fly in to this airport to reach Ooty. The place is also accessible from the international airport at Bangalore (295kms from Ooty), which is a hub for connections outside the country. Both of these airports operate regular flights from other main cities in the country. Once in these airports hire a cab or take a self-drive and you can be on your way to Ooty.

Bus services line up for Ooty consisting of both government owned and private luxury ones. The states of Karnataka, Tamil Nadu and Kerala operate state transport corporation buses at affordable rates and the deluxe buses are quite comfortable in their class. You can easily avail overnight journeys or take the regularly scheduled buses from Bangalore, Mysore, Chennai and Calicut.
If you are one keen on visual experiences and want to take in the scenic surroundings of the Western Ghats on the way to Ooty, then hop in on the Indian Railways. The nearest railhead to Ooty is located at a distance of 40kms in Mettupalyam, connecting the neighbouring cities such as Chennai, Bangalore, Mysore and Coimbatore. From Mettupalyam, you can either take the Heritage train known as the Nilgiri Mountain train for an exciting journey uphill or take the road-ride.

Adventure lovers and road-riders can look forward to this option of taking the road in their own hands. Special delights include drive-through locations in reserve forest areas. When you are driving from Bangalore, you can approach via Mysore or Chamarajanagar. The forest roads are double-laned and smooth paths winding through the Bandipur National Park and Mudumalai Wildlife Sanctuary. You can look out for the road-side signs that notify which animals to keep a watch for on the next bend.

Places to see in Ooty
While the places to see and visit in Ooty are numerous and infallibly click-worthy, some selected ones are frequented more often than others depending on seasons and accessibility. A few hand-picked destinations you should not miss while preparing your Ooty travel package are:
- Man-made delight: This should be a part of your Ooty package. As soon as you land here, one of the first places you can pick from your Ooty itinerary is to set foot in the Ooty Lake. It is a 2.5km long water body built in the early 18 century, covering the vast and expansive sights of the Nilgiri Hills. This destination is one of the most visited places in the hill district mainly because of its easy location of 1km from the bus and train stations. Take out time to enjoy a boat-ride amidst man-made and natural wonders.

- Popular Bollywood spot: The pine forests situated on the way to Thalakunda from Ooty are a popular spot for Bollywood directors to shoot their best scenic songs. Just passing through these dense forest areas makes you want to come to a screeching halt in the middle of nowhere and imbibe the peace and tranquillity that these towering pine trees are offering.

- Peak that overlooks Ooty: The Dodabetta peak is the highest point in Ooty (Nilgiri Hill range). Standing tall at 8606ft. and located at a distance of about 10km from the heart of Ooty, the peak has a view point armed with a telescope that can offer sweeping views over the valley and the Nilgiri Hills. The views that line up on the way uphill to this crowd-puller location is no less magnificent – hill sides symmetrically lined with pine, and beautiful tea terrace farms.

- Another scenic location for shooting: On your way to the Pykara waterfalls, is a spot named '6th mile' and as the name suggests, it is just about 6miles from Ooty. This scenic location lies amid the lush green forest, replete with scenic overviews and is a popular place for film shootings (also called shooting spot). This spot can easily be included in your Ooty tour package.

- Of pine trees and waterfalls: A great picnic location is situated at about 20kms from Ooty. The Pykara waterfalls are filled with nature's most amazing creations. Pine trees surround the destination, added to the beauty extended by the lake and a gushing waterfall. Adventure lovers can engage themselves in thrilling speed boat rides, while the honeymooners can take long romantic walks in the adjoining pine forest.

- A cascading waterfall in a stunning location: The Catherine Falls drops from a height of about 25ft., cascading twice over the landscape. The 2-stage fall is located in the hill station of Coonoor. What makes this place attractive is the location and beauty that surrounds the road that leads up to the falls.

Likewise beautiful and scenic, Ooty is full of numerous destinations and experiences galore. If you have all the time in the world to explore Ooty, this hill station is all for you to conquer. You can extend your trip further to another nearby hill station, Kodaikanal, which is equally known for its stunning landscapes.
What to eat in Ooty

Ooty is home to bakery delights, coffee houses, Chinese dishes and traditional south Indian dishes. And just in case you fancy having your meal in a restaurant, Ooty is amply loaded with food joints offering hillside sweeping views over valleys. Some of the food items to look out for on your Ooty tour are:

- Relish homemade bakery items: Ooty is home to local made bakery and chocolate delicacies. The biscuits are called 'varkey' and flavours ranging from strawberry, fig, mango, and blackcurrant for chocolates to sugar-free ones.

- Enjoy locally grown tea and coffee: Some age-old coffee houses offer tea and coffee grown in their own farms. Look out for such places, as often they come with wide open spaces and scenic spots to sit and enjoy a cuppa.

- Must try authentic south Indian cuisine: It is possible to enjoy a nice south Indian meal at any one of the pure vegetarian restaurants. The traditional pairing of dosa, idli or vada with sambhar and chutney is always a classic way to a wholesome meal.

- For those with Italian food in mind: You can go on an Italian mania, ordering from the choicest of pizzas to pastas. Some places offer food that are cooked in wood fire oven. The result is just mama mia!

If you are in the mood for some Chinese, Ooty will give you its best at everything.

Some priceless experiences for you to take home as Ooty souvenirs:

Ooty is a destination fit for all kinds of travellers – adventure, arts and nature lovers alike. While some experiences make you aware of sights and sounds you never knew existed, some will leave imprints in your memory for you to treasure them later on. From mountain biking to adventurous hang-gliding to taking a toy train ride, the lists are limitless:
-
Take the chaiya chaiya heritage train ride to Ooty: Remember the scene in Dil Se when the Bollywood badshah Shah Rukh Khan danced on top of a toy train and sang chaiya chaiya? Well, this is the same train. The Nilgiri Mountain Railway is a 46kms long toy train built by the British, which connects Mettupalyam and Ooty. The beautiful train travels through tunnels, along curves and over bridges lined with scenic views and green landscapes. If luck favours, you might get to see the amazing sight, the queen of hills being traversed by man-made marvels.

- Visit the garden with a prehistoric fossil: The Ooty botanical garden is horticulture's delight and a wonderful destination to leisure around with your family. This is also one of the destinations frequently included in Ooty tour packages. The garden is well spread over an area of 22 hectares and houses over more than 650 species of flowers and trees. The main attraction of this garden is the supposedly 20 million old fossilised trees that this garden has nurtured through time. On the hills above the garden is the settlement of the Toda tribes and is an area worth exploring.
-
The first bungalow of Ooty: Arts and history fans can savour this place. The stone house built by John Sullivan in 1822 is home to the Government Arts College of Ooty presently. Visitors can explore the amazing displays of architecture and relics here.

- A must visit for tea lovers: The tea museum is a tea lover's paradise and a tourist's delight. Spread over a 1acre area surrounded by tea plantations over the Nilgiri Mountains, the Dodabetta tea factory is a one stop destination to learn about the history and evolution of tea. You can also buy souvenirs such as tea leaves, mugs, plates, etc from the gift shop.

- These ones are from the tourism department: Every year, the Tamil Nadu tourism department and Ministry of tourism organise a tea festival (January) to showcase Ooty's home-grown tea varieties and in the month of May, the summer festival kick-starts with the main attractions being flower shows and boat races. Also, in March and May, you can enjoy hang gliding in the hills of Kalahatty. Book your Ooty tour packages accordingly and enjoy the show.

Your journey to Ooty will be one of the most uplifting vacations you can envision. The allure of Ooty lies in its scenic landscapes and panoramic beauty. The journey to enchantment begins shortly before you enter Ooty and lingers for an extensive time even after you have left it.
Ooty Packages - Best offers on Ooty Tours & travel packages at MakeMyTrip. Click to book customized Ooty packages at Rs.31,999 & get exciting deals for Ooty holiday packages.
Ooty Places to visit Map
{"bangalore":{"lat":"12.9716","long":"77.5946"},"mysore":{"lat":"12.2958","long":"76.6394"},"Coorg":{"lat":"12.3375","long":"75.8069"},"Ooty":{"lat":"11.4064","long":"76.6932"},"Kodaikanal":{"lat":"10.2381","long":"77.4892"}}
Recommendations Holiday Packages at MakeMyTrip