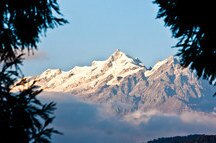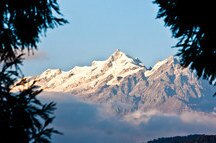 ABOUT PACKAGE
A storehouse of natural bounties and cultural heritage, North East India is spectacular in every sense of the word. A holiday in the Eastern Himalayas spent capturing magnificent vistas and making friends with locals is sure to be a unique experience. Pick this North East India package by Make My Trip to come here, without having to deal with the hassles of planning a tour. Covering Gangtok, Pelling and Darjeeling, this itinerary includes sightseeing at prominent points of interest like Flower Show Centre, Darap Village, Himalayan Mountaineering Institute and Darjeeling Zoological Park. A visit to Do-Drul Chorten, Namgyal Institute of Tibetology and Ghoom Monastery will be a glimpse into the rich Buddhist culture.
Rs.37,880
Rs.36,880
per person
DEAL
Exclusive Online Offer: Book now & Get Rs. 2000 Off for 2 travellers on booking through ..
Know more
Call us toll free :1800-103-8800
About Sikkim – where life slows down beautifully
What's it like to be on a timeless journey where life as we know it comes to a stand-still, like everything around you moves in slow but beautifully paced motion? A place where you wake up with the sound of gushing streams, the smell of tea and coffee emanating from artful cafes, and a streak of sunlight piercing through the cloud cover. The snow-clad peak of Mt. Kanchenjunga in the distance dominating the horizon, one of the everlasting relics of nature, is an awesome sight to behold. Sounds lovely? Well, you have to be on a Sikkim tour to experience such a melodious string of settings.
If you are new to Sikkim and you are considering visiting it for the first time, then you are en route to unfolding one of the greatest marvels of nature. Sikkim is one of the 8 northeastern states of India and a prominent hilly extension of the Great Himalayan mountain range. The state is permanently draped in cloud cover due to its high altitude location ranging from 280m at its lowest to 8,586m at the highest. Sikkim is also noted for its biodiversity, sub-tropical, temperate and Alpine climates with average summer temperatures not exceeding 28°C. When you are on a Sikkim tour, the best part is that you get to live, stay and breathe among the clouds. So, chalk up a Sikkim tour itinerary and book your best compatible Sikkim tour package from MakeMyTrip.

Best time to visit in Sikkim
The Himalayan state of Sikkim enjoys 5 different seasons – a monsoon between June and September, in addition to the usual four seasons (spring, summer, autumn and winter). Monsoon rains can usually go on for days on end and fog can envelop the place during rainfall and winters. Most of the tourist attractions are governed by climate and accordingly, the best times to visit Sikkim are determined by the prevailing weather conditions of the place.

The best time to visit Sikkim is the period from April to June and October to December, steering clear of the monsoons altogether. Winter weather is usually very harsh with temperatures dropping below zero and it is not advisable to visit the state in these climatic conditions. Rainfall starts from the month of July and proceeds till September. The temperature during the months of May to September is moderate with the maximum temperature around 28 to 30°C.

North Sikkim, East Sikkim and West Sikkim experience mild to heavy rainfall during the months of July and September. However, if you love the smell of invigorating fresh showers in the morning, this one is for you. The weather during the winters (October to February) is very harsh with the temperatures falling to sub-zero and it is not advisable for visits during these months. The summer months of March to June are the best times to visit as the weather is pleasantly cooler and the sky is less overcast. Go on a North Sikkim tour to cover some of the best spots.

South Sikkim is located at a lower altitude than the north and enjoys an environment full of lush green vegetation and the weather is less harsh all throughout the year. Though the winter months are unfavourable for tourist visits and summer months are the best times, you can also do away with the rain, stay indoors and enjoy the monsoon. South Sikkim is the least populated part of Sikkim. Choose from a variety of Sikkim tour packages available on MakeMyTrip.
How to reach Sikkim
Sikkim is connected to the rest of the world directly by roads and indirectly via airways and rail. Being a mountain state, it can be accessed through a network of roads from the neighboring cities and towns of Siliguri, Darjeeling, Bagdogra and New Jalpaiguri.

Indirectly, the state is accessible via an airport in Bagdogra, West Bengal located at about 124kms from the state's capital city, Gangtok. From the airport, you can travel on road in a bus or cab to the capital city, a 5hrs journey through properly maintained hilly roads. Gangtok is also reachable from Bagdogra via a helicopter service that takes around 30 minutes. The nearest railhead to Sikkim is located at a distance of 125kms from Gangtok at New Jalpaiguri station in West Bengal. From here, you can proceed via cabs, taxis or buses on a 5 hour journey to the capital.

The shortest and nearest road network connecting Sikkim to neighboring areas runs from the city of Siliguri, a distance of 114kms. The hill district of Darjeeling is also connected to the state via cars, taxis or buses. The hilly road to Sikkim is well maintained and the journey itself is a showcase of exhilarating sights. The Teesta river flows on one side of the road and the lush green mountains complete the scenic beautiful landscape. A Sikkim tour on the road is something to really look forward to in spring months as the road leading to the capital is decorated with vibrant flowers that welcome your visit. You can avail special Sikkim packages from MakeMyTrip such as honeymoon packages for a hassle free tours and travels of the place with your partner.
Places to seein Sikkim
Sikkim receives most of its tourists in the summer and just before the onset of winter season. These are the perfect times to explore some of the best Sikkim tourist places without the weather creating a ruckus for sightseeing or hiking activities. Some of the must see places in the hilly state of Sikkim include, but not limited to:

• A capital and base for hikers: The capital city of Gangtok is a Tibetan Buddhist centre and a favourite place for hikers to establish base camp for a trek along the routes of the Great Himalayan range. The state's capital is abundant in monasteries, which are home to rare artefacts. You can visit notable sites such as the Rumtek Monastery, Enchery Monastery and Do Drul Chorten stupa.

• Also, if you are interested in museum relics on your Sikkim sightseeing, drop in at the Namgyal Institute of Tibetology to witness rare collections of manuscripts, Buddhist arts and crafts. While the Gangtok Ropeway gondola offers panoramic views of the city, outdoor recreational activities such as camping, hiking, mountain climbing and white water river rafting are common in the city's vicinity.

• Get a view of Mt. Kanchenjunga: The second most visited place in Sikkim after Gangtok is Pelling. This small town is famous for its breathtaking views of the third Himalayan giant. A narrow strip of road goes through the town, lined by a string of hotels on either side. This is the place you have to focus on while booking your Sikkim tour package, especially if you want morning views of the mountain. Explore one of the first monasteries built in the state, the late-17th-century Buddhist Sanga Choling Monastery. The ruins feature wall paintings, sculptures and gold plated statue of Guru Padsambhava.

By the river Teesta: The small mountain village, Lachung is located at an altitude of about 8,610 ft. and at a distance of 118kms from Gangtok. Lachung means 'small pass', you can visit this location on your way to the Yumthang valley, the host to Sikkim's collection of hot springs. Visit the 19th century Buddhist Lachung Monastery with its wonderful wall murals and ancient statues. Also, don't miss the carpet weaving centre here.

• The valley of Rhododendrons: Also known as the Yumthang Valley or the Sikkim Valley, it is located just about 1.5hrs drive from Lachung. As the tree line ends, a vast bed of flowers comprising of vivid Rhododendrons in purple, blue, red, pink, etc. line up the valley in a powerful show of nature and colours. The Shingba Rhododendron Sanctuary houses more than 24 species of the state flower and is an overwhelming sight to look at. Enjoy the plethora of rainbow coloured flowers bloom in the months from late February to mid-June as a part of your Sikkim trip package. Make your stay in a forest rest house and enjoy the breathtaking waterfalls, pine forests and Yumthang hot springs.

The list of places to visit in Sikkim has a variety of attractions to offer you depending upon the season of your visit. So, visit MakeMyTrip to plan you Sikkim tour itinerary and book Sikkim tour packages with price friendly offers.
What to eat in Sikkim
Being one of the states nestled high up in the Himalayan Mountain range; the food items available in Sikkim have a striking similarity with those in Darjeeling, Nepal and Tibet. But the fun in relishing a helping of a warm noodle-based dish in Sikkim with an awe-inspiring view is an experience you will not get anywhere else.

• Who doesn't love momo? Momo is the lifeline of Sikkim! The Tibetan origin food has deep roots here in the lifestyle of the people of Sikkim. So, get along and enjoy their favourite delicacy.

• The lean mean noodle soup: Thukpa, as it is commonly known, is a soupy delight served with spicy garnishing and thin sliced meat or vegetables. This delectable dish equally has a place in the heart of Sikkim's food table.

• Another famous food of Sikkim: Phagshapa is a mildly spiced meat dish prepared with sliced pork and radish. The light flavour of the dish is compatible with a bowl of rice.

• Home-made bread: The sael roti is a popular, locally made, sweet bread/doughnut. It is made with rice flour and then prepared into a ring-shaped roti by deep frying. This is a special food item for the Tihar festival (Diwali in Sikkim). If you are here on Tihar, you better not miss this sweet tooth satisfaction.

• You'll need a special request for this: Churpee is a fermented milk product used to make soup and pickle. Niguru is a locally grown fiddlehead fern when cooked with churpee forms an irresistible home-made dish. Enquire about it or make request at the place of your stay.

The people of Sikkim love an abundance of pork and beef in their cuisines. Apart from the noodles, soups and bread, you can also enjoy a variety of non-alcoholic (e.g. mohi) and alcoholic beverages (jaanr, chaang, etc.) to help you keep warm in the mountains.
Cloud 9-like experiences in the high altitudes of Sikkim

The Sikkim travel diary will never be complete without some out-of-the-world experiences. Surely, all of your endeavours in Sikkim are special beyond any comparison but there are some that will leave you with a feeling of walking in the clouds:

• Walk on a swinging foot-bridge: While on your way to Yumthang valley you will cross a prayer-flag-draped suspension footbridge. This picturesque setting is where you can take snaps or walk in peace.

• Enjoy a hot spring treatment: Relax in one of the hot springs of Sikkim (Reshi, Borong and Ralong hot water springs) that are known to have health benefits with medicinal and therapeutic properties.

• Drive to the end of the road: Ride up on a wiggle of hairpin roads from Yumthang and up to the end of the civilian road from where you can proceed no further (and so the name, zero point). Enjoy the complete change in flora, a wobbly bridge and Alpine feel at 4,825m elevation.

• Pilgrimage to the four holy caves of Sikkim: Embark on a spiritual journey as a part of your Sikkim tour by visiting the four renowned caves distinguished by the four cardinal direction of their locations – the North Lha-ri-nying phu, the South Kah-do-sang phu, the East Pe phu and the West De-chhen phu.

• Go trekking in Sikkinm: Lose yourself to the wilderness of the Himalayan terrain and vegetation. There are a variety of treks such as Goecha La Trek, Rhododendron Trek, Dzongri Trek, Kanchenjunga Base Camp Trek and many others that will live up to all of your adventure spirits.

• Explore enchanting lakes: There are destinations that you just can't miss. The lakes are considered sacred and revered by the people. Gurudongmar and Chho Lamo (North Sikkim), Tsomgo Lake (East Sikkim) and Khecheopalri (West Sikkim) are some of the most visited ones.

In short, Sikkim is a great place to enjoy the chill of the pleasant weather, the views of stunning landscaped beauty and domineering mountain ranges: the perfect respite from civilisation. A Sikkim tour plan is the getaway where you can immerse yourself in a book that you've been struggling to finish but never had the time and place for it.
Sikkim Tour Packages - Best offers on Sikkim travel packages at MakeMyTrip. Click to book customized Sikkim packages & get exciting deals for Sikkim holiday vacation packages.
Sikkim Places to visit Map
{"Gangtok":{"lat":"27.3389","long":"88.6065"},"Pelling":{"lat":"27.3198","long":"88.24"},"Darjeeling":{"lat":"27.036","long":"88.2627"}}
Recommendations Holiday Packages at MakeMyTrip