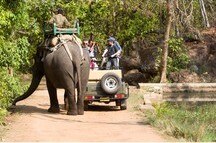 Rs.37,999
Rs.34,200
per person
DEAL
Book Online & get additional 10% Cashback Upto INR 10000 on CITI BANK Credit Cards. Offe..
Know more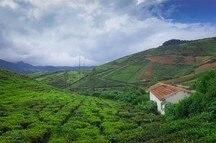 Rs.51,999
Rs.46,800
per person
DEAL
Book Online & get additional 10% Cashback Upto INR 10000 on CITI BANK Credit Cards. Offe..
Know more
Call us toll free :1800-103-8800
About south India
The southern part of India lies in the Deccan Plateau, which is surrounded by the Eastern Ghats and Western Ghats. While the Indian Ocean is at the south of India, the western part mostly comprises the Western Ghats along the Arabian Sea and the Eastern Ghats along the Bay of Bengal make up the eastern side. South India comprises five states - Kerala, Tamil Nadu, Andhra Pradesh, Karnataka and Telangana, and three union territories - Lakshadweep, Andaman and Nicobar Islands, and Puducherry. Apart from its abundant natural beauty with scenic hills, beaches and coastal towns, South India has a rich cultural heritage with numerous pilgrimage destinations and historical monuments apart from other places of interest.

While Kerala is historically renowned for its spice plantations that attracted civilisations from all around the world, there are several other must-sees in this state such as the serene backwaters of Alleppey, its wildlife sanctuaries and the traditional art forms based on the Natya Shastra such as Kathakali and Ottamthullal, among others. Tamil Nadu, on the other hand, is famous for its charming hill stations, picturesque beaches and beautiful temples. Other states in the southern part of India such as Telangana and Andhra Pradesh are famous for historical forts, pilgrimage destinations and their burgeoning IT centres. Karnataka also has much to offer when it comes to heritage and modernity such as the ancient ruins of Hampi, the antiquated charm of Mysore and the highly modernised city of Bengaluru with public parks and shopping malls. For adventure enthusiasts, South India offers plenty of water-sport activities in Lakshadweep, Andaman and Nicobar Islands and Puducherry. For leisure travellers, Goa attracts a large number of tourists throughout the year who enjoy its sandy beaches and many other water-sport activities, along with its vibrant nightlife.
Best Time to Visit South India
South India faces summer from March to May, the monsoon months begin from June and end in September, and winter starts from October and ends in February.

Kerala has a tropical climate and is a year-round destination. The winter months are considered ideal for visiting, as the temperature remains quite pleasant. The Ayilyam Mahotsvam is celebrated during the month of October at the Sree Nagaraja Swami Temple in Vettikode, Kerala. Another festival during the months of October or November, based on the Malayalee calendar, is the Alpashi Utsavam celebrated at the Sree Padmanabhaswamy Temple. The Champakulam Boat Race is usually celebrated during the months of June or July and marks the onset of the monsoon season.

In Tamil Nadu, Pongal is celebrated around mid-January and the weather is pleasant during this time. The Tamil New Year is celebrated in the month of April as it is the first month of the Tamil solar calendar. It is best to visit the hill stations in Tamil Nadu during the summer season. The Summer Festival in Ooty is celebrated during the month of May with various cultural events. Deepavali is celebrated in October or November. Ugadi, celebrated in Andhra Pradesh, Telangana and Karnataka, marks the first day of the Hindu luni-solar calendar in the month of April or May. The Deccan Festival is annually celebrated in April in Hyderabad and the Rayalaseema Food and Dance Festival is an important cultural event celebrated in October in Andhra Pradesh.

Puducherry is best to visit during the winter months from October to February. The International Yoga Festival is annually held during the month of January to encourage the art of yoga along with dance performances. Bastille Day is celebrated on July 14; it is also when the monsoons usually begin.

How to Reach South India

There are several convenient ways to reach South India. Travellers can visit the lesser-known places in the region from the major airports by renting cars or travelling by boats.

By Air:

To reach Kerala, the major airports are the Cochin International Airport, Trivandrum International Airport and the Calicut International Airport. These airports have direct as well as connecting flights to all the major destinations in the country and other international destinations. The main airports serving Andhra Pradesh are Vijaywada Airport and Vishakapatnam Airport, with daily flights to the major destinations across the country as well as some international destinations. The Rajiv Gandhi International Airport in Hyderabad is the major airport in Telangana, which connects to most cities in the country and several international destinations. The major airports of Tamil Nadu are the Chennai International Airport and Coimbatore International Airport that connect to most national and international cities. The Madurai Airport in Tamil Nadu connects to international destinations such as Singapore, Dubai and Colombo, and the major domestic destinations. Karnataka's international airports are the Kempegowda International Airport and the Mangalore International Airport that connect to most international destinations including the Middle East as well as most of the domestic destinations of India. Puducherry Airport is only connected to the Rajiv Gandhi International Airport in Hyderabad and the closest airport to Puducherry is the Chennai International Airport.

By Rail:

The Villupuram Railway Junction near Puducherry connects to Tiruchirappalli, Chennai and Madurai, from where one can reach the other cities in the country. To visit Kerala, there are several direct trains from the major cities such as Mumbai, New Delhi, Bengaluru and others. Kerala has around 200 railway stations. It is convenient to reach other parts of the state through the inter-state trains. Karnataka has about 144 railway junctions in its major cities and the Bangalore Railway City Junction connects to most of the cities in the country. The Secunderabad Railway Station is the main junction serving the state of Telangana and connects to the major cities in the country.

By Bus:

Kerala is well-connected to the other states in South India by road and National Highway 47, National Highway 49 and National Highway 17 connect to other parts of the country. Tamil Nadu has an extensive bus network, with government as well as private-run buses connecting to all the cities in South India. To reach Puducherry by road, one can conveniently take the private or state-run buses from Chennai, Bengaluru, Mahabalipuram and Coimbatore, among others. Karnataka also has a vast road network connecting to all parts of South India through the National Highways covering 3,700 km. In Andhra Pradesh, the main bus stations are the Mahatma Gandhi Bus Station in Hyderabad and Nehru Bus Stand in Vijaywada that connect to most of the nearby cities.

By Boat:
In Kerala, it is convenient to travel by boat to reach its various attractions, specially, the backwaters. The Kerala State Water Transport Department connects to Alleppey, Kottayam, Kollam, Ernakulam, Kassargode and Kannur districts.
Places To See In South India

South India contains plenty of attractions in each state. Here are a few popular places in the region which you can visit for an enjoyable holiday:

Ooty: Ooty is a mesmerising hill station in Tamil Nadu. It is surrounded by the Nilgiri mountains that are part of the Western Ghats. This town has several other picturesque attractions such as the Doddapetta Peak, which is the highest point in Tamil Nadu at an altitude of 2,637 metres above sea level. There are many South India tour packages for travellers who can enjoy a wonderful vacation to Ooty. The enchanting Pykara Waterfalls and lake near Ooty is an excellent picnic spot. Some of the South India tour packages for family include a trip to the Rose Garden, which is one of the largest in the country. Families on a South India package can visit Coonoor and head to the Dolphin's Nose, which is a popular selfie point situated at an altitude of 1,550 metres above sea level.

Kodaikanal: Another attraction included in most of the South India itineraries is a visit to Kodaikanal by road. It is another picturesque hill station in Tamil Nadu with plenty of attractions for the whole family. The Shenbaganur Museum houses an extensive collection of taxidermy animals and birds, among other exhibits. The Berijam Lake is a must-visit as one can get a chance to see leopards and bisons, among others. The Pillar Rocks are also a great attraction in Kodaikanal, offering panoramic views of the surroundings.

Puducherry: Puducherry is a picturesque town in South India. Apart from the French colonial influence that can be seen in the streets, Puducherry is home to Auroville, a utopian and experimental township. Puducherry is also famous for the Shri Aurobindo Ashram which requires no entry fee. In this ashram, people go for practicing and learning yoga and meditation. There are several cheap tour packages in South India to Puducherry where one can enjoy the attractions on their own and visit the lesser-known places such as the Serenity Beach and Paradise Beach that are filled with palm trees.

Chikmagalur: Chikmagalur is a beautiful hill station in Karnataka with appealing greenery and plenty of sightseeing attractions. Primarily known for its coffee plantations, Chikmagalur is also popular for water-sport adventures. River Bhadra is an amazing spot for white-water rafting and it is included in some of the best South India tour packages. From Chikmagalur, vacationers can explore the hidden gems in Halebid and Belur, which consists of historical temples such as the Chennakeshava Temple and Hoysaleswara Temple, among others.

Tirupati: Tirupati is an important Hindu pilgrimage destination in the Chittoor district of Andhra Pradesh. It is an ideal place for a spiritual South India holiday where vacationers can visit the historical Sri Kalyana Venkateswara Swami Temple that was rebuilt in the 16th century. Another popular temple is the Kapila Theertham that is dedicated to Lord Shiva.

Munnar: Munnar is a charming hill station in Kerala and is included in various South India holiday packages. Surrounded by plush greenery and beautiful tea plantations, Munnar lies at an altitude of 2,600 metres above sea level. This hill station is renowned for the Eravikulam National Park that is home to the endangered Nilgiri Tahr. Munnar is filled with several other attractions for a fun South India tour. The mesmerising Anamundi Peak is popular for trekking and it is also the highest point in South India, lying at an altitude of 2,695 metres above sea level.
What to Eat In South India

In Kerala:

Karimeen Pollichathu: It is one of the best traditional dishes of the state, prepared with pearl spot fish (karimeen), red chillies and lemon juice among other ingredients and baked in banana or plantain leaves.
Appam with Stew: It is traditionally made with fermented rice flour and fresh coconut milk.

In Tamil Nadu:

Sambhar: Sambhar in Tamil Nadu is prepared with drumsticks, pumpkins, lentils, gourd and asafoetida.
Milagu Pongal: It is a popular breakfast dish prepared with rice, split green gram (moong dal), cashew and curry leaves, among other ingredients.

In Karnataka:

Bisi Bele Bath: It is Karnataka's traditional recipe prepared with rice, lentils and tamarind, among other ingredients and seasoned with ghee.
Korri Gassi: Korri Gassi is prepared with chicken, tamarind, coconut and coconut milk. This dish is popular throughout Karnataka and is usually served with Neer Dosa or Roti.

In Andhra Pradesh:

Ulava Charu: Ulava Charu is a brown soup prepared with horse gram and served with rice and cream.
Pesarattu: Pesarattu is a popular breakfast item prepared with ground green gram and served with coconut chutney.

In Puducherry:

Meen Puyabaise: It is loosely based on the French stew, bouillabaisse and prepared with fresh seafood. This dish is spicier than the original version and is one of the best fusion foods in town.
Vendakkai thayir pachadi: It is a side dish served with Rice. It is prepared with okra and curd.
LESSER KNOWN EXPERIENCES TO LOOK OUT FOR IN SOUTH INDIA
South India blossoms like a paradise for tourists looking for a mix of cultural heritage, nature and adventure. Whichever way you head, there is a good chance that you will find a lesser known activity/ destination perfect for a quiet weekend getaway. Sometimes, the best places to visit in South India are the ones that are the most obscure.

• A hill resort called Idukki: This destination lies in the Western Ghat region of Kerala. From the scenic hilly terrain of Munnar to the holy shrine of Sabarimala to wild-life watching in Periyar National Park to aerosports in Vagamon, this hill district is truly an experience beyond excellent and 2500 above sea level.

• Detour from Ooty: Located at about 19kms away from Ooty is Coonoor, a magnificent hill-town resort in Tamil Nadu. This hill station is the second largest in south India and home to the Sim's garden, Doddabetta view point, Catherine Falls and a part of the Nilgiri Mountain Railways track.

• Grand Canyon of India: Truly unexplored and unseen by many, anyone lucky enough to have stumbled upon this epic rocky landscape will feel so. Gandikota is a small village located at the bank of Pennar in Andhra Pradesh. The downhill track from the canyon to the riverbed can be traversed on foot. Also, there is no transportation available once you are in this region.

• Your chance to be Indiana Jones: The Belum Caves are the second largest caves in the Indian sub-continent open to public access. Catch a bus from Tadripati to explore this longest limestone cave of India. Inside the cave, you will feel like you're on a treasure hunt. Located in the Kurnool district of Andhra Pradesh bordering Telangana, this is the best place to quench your explorer spirit.

• Truly a delight of two: On the way to Goa from Mangalore, there is a stretch of road with a river on one side and a beach on the other, the Maravanthe Beach in Karnataka. With no nearby places to stay, this is a sure hit spot if you are looking for peace and tranquility at a beach like that of Goa.

• Island exploration: Amongst the tourist places in South India, the island destinations of Andaman, Nicobar and Lakshadweep have many beautiful places but less explored ones on the map. Try Neil Island in Andaman with beautiful outcrops and Agatti Island with an airway strip. The views don't get better than these.

A great number of hidden and unexplored destinations exist in the vast Deccan plateau and Western Ghats. From ancient temples to secluded beaches to hidden waterfalls and remote hill stations in South India, this is a place you will never get tired of exploring.
South India Tour Packages - Best offers on South India travel packages at MakeMyTrip. Click to book customized South India packages & get exciting deals for South India holiday vacation packages.