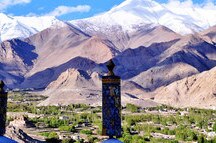 Rs.26,999
Rs.25,999
per person
DEAL
Exclusive Online Offer: Book now & Get Rs. 2000 Off for 2 travellers on booking through ..
Know more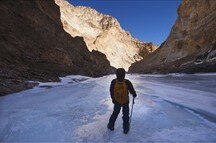 ABOUT PACKAGE
Ever fancied how it feels to walk on ice? Well, you could experience it by signing up for a Chadar Trek expedition. Starting from Shingra Koma, the trek cuts and runs through the gigantic snow-covered mountains eloped in clouds, ice-clogged lake, mountain caves, snow bound villages and high canyon walls that barely lets sunlight pass in. Thrilling and extremely fascinating, the trek will introduce you to the offbeat places of Ladakh where there's nothing around but vast stretches of ice sheet. Further adding to the intrigue is the -30 degrees temperature that one has to survive while walking on slippery rocks. This winter, if its adventure that's on your mind, then look no further and book this package to Chadar Trek. Please download the brochure at the bottom of this page for some important information on this trek.
Rs.20,999
Rs.18,060
per person
DEAL
Exclusive Online Offer: Book now & Get Rs. 5879 Off for 2 travellers on booking through ..
Know more
Call us toll free :1800-103-8800
About LADAKH
Ladakh, the magical land of towering mountains, strong chilly winds and calm ambience, makes for a perfect tourist destination package. Vacationers who are thrilled by the challenges of nature should take the Ladakh Package to head on an extraordinary experience in an alluring landscape with a mystic aura. The largest province of Jammu and Kashmir, Ladakh brings to you the raw beauty of nature – unaltered yet beautiful. You will have a thrilling holiday experiencing the real life in the mountains. It is far more endearing than you can imagine.

The lands of Ladakh echo with Buddhist simplicity and humility. Amid the rugged terrain, barren cliffs and bewildering wilderness lie the magnificent gompas and whitewashed stupas that fill the air with spiritual chanting. The sounds of nature mingled with mantras from the prayer wheels will calm your very souls. On your Ladakh tour package, you will experience the stimulating beauty of the daunting mountains where flutter the colourful prayer flags, connecting you to the mystical world of spirituality.
Best time to visit Ladakh
Ladakh is a dream destination for adventurers and explorers and you can opt for a Ladakh tour whenever you wish to - the beauty of the region is alluring through most of the year. People may differ in their opinion about the best time to visit Ladakh, depending on what they wish to experience there. While most would certainly back the opinion that summer is the best time to plan a tour to the mountainous region, some would find winter to be the ideal time to explore the authentic beauty of Ladakh. Summer is also preferred as one gets to witness the colourful festival of Hemis in June.

April to July

These are the summer months of Ladakh, with average temperatures ranging between 15°C and 30°C. The weather is pleasant, with a good amount of sunshine, making it the best season to opt for a Ladakh package. The mountain passes are open and exploration is easy. One may indulge in numerous exciting activities including trekking and biking. Exploring the rugged terrain on jeep is also an option. The beauty of destinations such as Thiksey and Pangong Lake is mesmerising at this time.

July to September

The months from July to September receive irregular showers and temperatures during this time range between 3°C and 17°C. This amiable weather makes it a good time to visit the region. However, landslides are common, making travelling at this time risky. One plus is that the crowd is less during these months. So if you take the Ladakh tour package at this time, you will get to witness the beauty of Ladakh in peace.

October to March

Winter sets in from October and extends till March in Ladakh. It is the harshest season of Ladakh, with temperatures dipping to around -15°C. Ladakh gets all covered in white during this time. But tourists still love to visit the region owing to its rich and unique beauty. The Chadar Trek, a walk on the frozen Zanskar Lake, makes for a one-of-a-kind experience that you will cherish lifelong. Do note that several of the mountain passes are closed during the winter due to excessive snowfall.
How to reach Ladakh
Ladakh is both fascinating and mysterious at the same time. Due to its eccentric beauty, the region has become quite popular among travellers. It is now more accessible and there is no difficulty in finding a suitable Ladakh tour package. Some of the best options to reach Ladakh are:

By Air:

The quickest and the most convenient way to reach Ladakh is by air. The main airport of the region is Leh Kushok Bakula Rimpochee Airport. It receives visitors from all the major cities of India including Jammu, Chandigarh, Srinagar and Delhi. There are flights all through the summer season. However, there may be some change in the schedule during the winter due to unpredictable weather conditions. From the airport, you can easily take a taxi to reach your destination.

By Train:

The closest railway station is Jammu Tawi. It is around 700 km from Ladakh and receives trains from Mumbai, Kolkata and Delhi. Once you reach the station, you will again have to take a taxi ride for your onward journey to Ladakh. The journey will take around two days. Leh can be reached from Chandigarh and Pathankot railway stations too, but it will require three days of travel by road.

By Road:

Buses of JKRTC and HRTC ply to Ladakh from Jammu and Srinagar. There are two routes to reach Ladakh by bus. One is from Manali that takes you through Rohtang Pass; the other route is from Srinagar through Zoji La Pass.
Whoever said that the beauty of Ladakh can be best enjoyed on a bike was absolutely correct. There is no better way to get close to Ladakh than a bike ride. There are two routes that bikers can explore. One is from Srinagar and the other is from Manali. We promise the journey will be as beautiful and charismatic as the destination.
A jeep ride is another enthralling option for adventure seekers. Enjoy a magnificent ride from Srinagar or Manali to Ladakh. The road trip will take you through some spectacular mountain passes.

Places to see in Ladakh
Ladakh is filled with natural splendour that promises to leave you impressed. Some of the wonders that you must visit in your Ladakh package are:

Magnetic Hill: Defying all laws and logic stands the Magnetic Hill, stupefying its visitors with its unexplainable phenomena. It is said to be an anti-gravity hill where a vehicle seems to move up the hill even when the engines are shut. The astounding hill lies at an altitude of 14,000 feet above the sea level and is a must visit on your Ladakh tour package. While researchers may find the effect of the Magnetic Hill to be a sort of illusion, tourists from all around the world come to experience this thrill.

Pangong Lake: Situated in the Himalayas at an altitude of 4,350 meters, Pangong Lake is the most spectacular vision of Ladakh. Only one-third of the 12 km lake lies in India; the rest is in Tibet. The glistening lake has been attracting tourists from around the world for its spectacular beauty. Its waters seem to change colour, from light blue to green, and sometimes even grey. A visit to Pangong Lake should be the top priority on your Ladakh tour package.

Nubra Valley: Amid the challenging terrain of Ladakh lies the elegant and beautiful Nubra Valley. Nestled in the Karakoram Range, it is served by two sparkling rivers, adding lush colour to the entire region. The green valley gets filled with pink and yellow roses in the summer while wild lavenders adorn the valley in autumn. No matter what time you visit, you will always be greeted by the exotic beauty of nature here.

Shanti Stupa: Among the splendours of nature stands high a manmade structure – the Shanti Stupa. This magnificent stupa has superb architecture and a breathtaking location. Sitting on a hilltop, at an altitude of 11,841 feet, the stupa offers mesmerising views of the panoramic surroundings. The enthralling vistas of snow-covered mountains shining under the rays of the sun are sure to captivate your senses.

Khardung La Pass: Situated at a height of 5,602 meters, Khardung La Pass or Khardzong La Pass is claimed to be the highest motorable pass in the world. The phrase 'on the top of the world' seems to be true when you enjoy a ride through this pass which offers pristine beauty. The immaculate scenery, fresh air and dreamy vistas make it the most beautiful spot in Ladakh. Tourists need to pass it to reach Nubra Valley. Khardung La Pass would probably be the most exotic experience of your Ladakh trip.

Zanskar Valley: The isolated beauty of Ladakh gets explicitly pronounced at Zanskar Valley. Nestled between the Great Himalayas and the Zanskar Mountains, Zanskar Valley is an isolated place with a very little Buddhist population. The valley has a river by the same name. It remains closed for more than half of the year due to heavy snowfall. If you are lucky enough to reach the Valley, you may get the opportunity to take a trek on its frozen river. Quite popular among tourists, this activity is known as Chadar Trek.

Kargil: Kargil is the second-biggest town of Ladakh and gained popularity after the war between India and Pakistan in the region. Besides this war tumult of 1999, the region has remained quite peaceful. It comprises some beautiful locations that are not-to-be missed.

Changtang Wildlife Sanctuary: Offering its visitors a unique beauty, Changtang Wildlife Sanctuary is counted among the most extraordinary experiences of Ladakh. It is home to some rare wildlife species such as the Tibetan wild ass and the black-necked crane. It also comprises the beautiful Pangong Lake. River Indus passes through the area and divides it into two parts. Changtang Wildlife Sanctuary is the best way to experience the rare beauty of the mountains.

Leh Palace: Overlooking the majestic town of Leh stands the enchanting Leh Palace. This 17th-century palace, though in a dilapidated state, is a prime tourist destination of Ladakh. It is located on top of a hill and offers mesmerising views of the town of Leh. Within the palace lies a museum containing artefacts which date back to 450 years. A tour of the palace will enlighten you about the rich cultural history of the region.

Spituk Monastery: Spituk Monastery, also known as Spituk Gompa, is a Buddhist monastery in Leh. Inside the monastery lies a big statue of Goddess Kali. Around 400 monks live in it. You can enjoy a relaxing day at Spituk Monastery that abounds in serenity and scenic beauty.
What to eat in Ladakh
Ladakh is visited by tourists from around the world for its enthralling beauty. Similar to its natural splendours, the cuisine of Ladakh is also unique. Influenced by Tibetan culture, the flavours of Ladakh are extraordinary. On your Ladakh tour package, do try some of these exotic dishes:

Thukpa: Thukpa is a popular local dish of Ladakh. This hot lip-smacking soup is made of noodles and vegetables. It is happily savoured by the locals to fight the cold. Some varieties of Thukpa also contain pieces of chicken. When in Ladakh, Thukpa is one dish that you cannot miss out on. Usually, Thukpa is served with baked bread, locally known as Khambir.

Tigmo: Tigmo, also known as Teemo, is another popular delicacy of Ladakh. It is a flavoured stew made using vegetables; it has a non-vegetarian variant too. The sweet spicy flavour of Tigmo will leave you yearning for more. It is the perfect dish to enjoy in the chilly weather of Ladakh.

Butter Tea: Butter Tea is a speciality of Ladakh and you are not going to find it anywhere else. With a tinge of pink, this tea is neither sweet nor bitter - it has a salty taste. This signature tea of Ladakh is prepared by adding butter and salt to boiling milk. Its unique flavour will remain with you for long.

Momos: These steamed buns with fillings of vegetables, mutton or beef are usually found everywhere and you would have relished them several times. However, the Momos in Ladakh are quite different. To know the authentic taste of Momos, you must try them on your Ladakh tour. Ladakhi Momos are made using Himalayan spices to enhance their flavour. They are usually served with Thukpa here.

Paba: Paba is a traditional staple dish of the Ladakhis. It is prepared using wheat flour, peas, barley, buckwheat and the black beans of Ladakh. Paba is mostly accompanied with Tangdur - buttermilk that contains fresh vegetables.
Out-of-the-world experiences at an altitude of 10,000 feet
The way to the top is never easy but once you reach, it is delightful and heavenly. Your Ladakh tour will shape up to be an experience that leaves you awe-struck.

Ride camels on the Hundar dessert: As you approach the Hundar sand dunes in the Nubra valley, in the vast cover of white sand, you might see silhouettes of camels majestically walking in the dessert. These are the famous two-humped Bactrian camels, and you can ride them too.

Meditate at the Diskit monastery: Amongst the unseen and unheard sights of Ladakh, is the Diskit monastery. You can take the camel ride from the Hundar dunes up to this monastery and enter into a world of spirituality. Meditate and look out to the vast stretch of the beautiful Nubra valley. The monastery also showcases a giant 115 feet tall statue of Maitreya Buddha.

Camp near the hot spring of Panamik: On the other side of the Nubra valley, is a road that leads to The Samstanling monastery and hot springs of Panamik village. These host springs are believed to have a power to cure disease because of its high sulphur content. And even if it doesn't, who cares. It's a hot spring in the middle of nowhere. A number of camping options come up once you reach the site.​

​Trek to visit the ruins of Nubra kings: The Zamskhang Palace is a rusty looking ruin set high in the slopes of a hillside in the Nubra valley. The site is home to the ruins of an ancient kingdom of Nubra. This former royal town also houses a just about intact shrine room and other relics of its former glory.

Gawk at the hilariously meaningful signs of the BRO roads: The Border Roads Organization has a thing for the visual treatment. On top of the beautiful scenic landscapes that line the entire route on your long drives, you should keep a lookout for the BRO road signs that are amusing beyond a serious warning note that they carry.

So, a memorable Ladakh tour essentially comprises of marvellous experiences guided by a good tour itinerary. Pack your bags and get ready to book your Ladakh tour package at compelling prices on MakeMyTrip.

A whole world of exciting possibilities awaits you in Ladakh.
FAQ for Ladakh Tour Packages:-
1. How many packages to Ladakh do you have?
- We have a total of 2 packages to Ladakh .

2. What is the minimum price for a package to Ladakh?
- The minimum price for a package to Ladakh is Rs.20,999 .

3. What is the maximum price for a package to Ladakh?
- The maximum price for a package to Ladakh is 26,999 .
Ladakh Tour Packages - Best offers on Ladakh tour packages at MakeMyTrip. Click to book customized Ladakh packages & get exciting deals for Ladakh holiday vacation packages.
Ladakh Places to visit Map
{"leh":{"lat":"33.5958","long":"78.2932"}}
Recommendations Holiday Packages at MakeMyTrip