Show Nearby Location Block: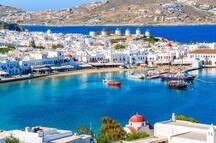 Hotel

Meals

Activity

Transfers
DEAL
Exclusive Online offer: Book Online and get Rs. 2000 Off. Valid only for bookings made o..
Know more
DEAL
Exclusive Online offer: Book Online and get Rs. 2000 Off. Valid only for bookings made o..
Know more
Call us toll free :1800-103-8800
Greece Honeymoon Packages | Book Honeymoon Packages for Greece | Honeymoon Packages Greece - MakeMyTrip.com
Greece Honeymoon Packages
With its picturesque setting of islands, magnificent mountain peaks and an enigmatic history, Greece is a honeymooner's paradise. Couples opting for the Greece Honeymoon Packages have much to explore, from sandy beaches, unspoiled island life to history and culture. Visit some of the most iconic sites in history, in the form of Acropolis of Athens and Delphi. To bask in the golden beaches while discovering quaint cafes, one must visit Santorini. Mykonos in Greece boasts of its cosmopolitan culture, beautiful architecture and offers an array of dining, shopping, entertainment options. Those looking for adventures as hiking or trekking can visit the monasteries on the mountains in Meteora. The largest of the Greek islands, Crete is a land steeped in history offering a pleasing contrast of beautiful coastline and rugged mountains. Couples can also enjoy a day excursion to Cape Sounion, best known as the site of the Greek Temple of Poseidon. Honeymoon packages for Greece include all this and much more for a memorable time with your loved one.
Apart from the glorious ancient ruins and finest world heritage sites, the Greeks also pride themselves on their cuisine, thereby offering a lot to explore for food-lovers. Dig into regional cheeses, freshly baked breads or just pair your pizza with fresh lobsters. If you are an art lover, it is a must to enjoy the performances of ancient Greek Theatre and pay a visit to the Castle of Patras to discover ancient history preserved in stone carvings. Greece Honeymoon Packages - Get discount on Honeymoon packages for Greece Tours & travel packages at MakeMyTrip.We offer customized Greece Tour & Honeymoon Packages. Plan a travel to Greece and its various tourist attractions with Greece Honeymoon packages. Explore exciting Greece Tourism with cheap vacation packages.
Recommended Holiday Packages