About Air India
Air India is the flag carrier of India and it serves both domestic and international destinations. Air India flights connect not only to metropolitan cities, but also smaller cities across the country. Air India is the preferred airline for many people because of the many benefits it offers, right from cheap flights, great service, online and mobile bookings, to Web Checkin and 24 hours customer care support. Through the web check in facility, Air India flight passengers can check in from the comfort of their homes 48 hours prior to their flight. Air India also offers business class passengers lounge facilities at various airports, where passengers can relax before their flight and enjoy an array of food and drinks.
Air India Offers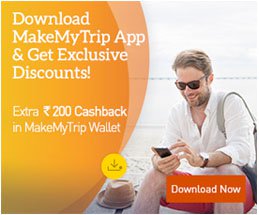 Get lowest airfare offers on Air India on all domestic routes in India.Best deals on Air India flight tickets at an exemplary prices. Online booking of Air India in very cheap prices.
Get this Offer
Air India Popular Domestic Routes
Air India Popular International Routes
Air India Flight Status
In keeping with their commitment to timeliness, Air India informs its travellers regarding any changes in flight

...

timing via SMS to provide a seamless and pleasant experience to all their passengers. Travellers can also check the flight status of their Air India flights on MakeMyTrip. Travelers can check their Air India flight schedule here.
more
Check Status

Contact Information
Airline e-mail:call.del@airindia.in
Phone Number:011-24624074
Baggage
Free checked baggage allowance for Air India flights for every adult and child includes: regular fare: 15 kgs, return fare: 15 kgs. The dimensions of the checked baggage should not exceed 62 inches in the sum of length, breadth and width. Passengers can book prepaid excess baggage 6 hours prior to departure at the rates mentioned on the company's official website.
Baggage Allowances
| Sector | Adult | Child | Infant |
| --- | --- | --- | --- |
| BOM-DEL | 15 kg | 15 kg | 0 kg |
| Sector | Adult | Child | Infant |
| --- | --- | --- | --- |
| DEL-MAA | 15 kg | 15 kg | 0 kg |
more

Web check-in
Web check-in passengers can use the Baggage Drop Counter to check-in luggage quickly and easily. Travellers can

...

also save time by checking in at the priority counters for Air India at selected airports for a fee of Rs. 600. MakeMyTrip also provides web check-in services for the passengers of Air India.
more
Web Check-in

Travel Insurance
Many Insurance Companies offer travel insurance for Air India passengers.

...

For a worry-free travel experience, passengers can get a Travel Insurance on the MakeMyTrip website or mobile app.
more

Inflight Services
Air India Airlines offer paid meals in flights and offers Indian cuisine for domestic flights.

...

Travellers can also check the flight status of their Air India flights on MakeMyTrip.
more
Travel Information
Information about various destinations, travel requirements, tips, ground services, code-share-partners; on board facilities and airport lounges always come in handy when you travel with Air India.
Before you fly
As a passenger, it is mandatory for you to comply with certain travel requirements for all domestic and international flights, as and when applicable. So, it is always a safe option to go through the requirements in details before you reach the airport. For instance, the most important piece of document, apart from your ticket with a 'correct full name', is an original photo identity document (for domestic flights) and a valid passport, visa, entry permit and/or any health certificate (for international flights). The photo identity document can be one of the many issued by the Government of India or any certified regulatory body. Also, the correct full name as mentioned on your photo identity document or passport is mandatory to get entry into the airport and to proceed for check-in and travel. The Airline also reserves the right to refuse luggage carriage, for reasons of safety and in compliance with laws and regulations, subject to the discretion of the authority involved.
Network
The vast network of Air India covers 37 international and 69 domestic destinations spanning over four continents. The country is crisscrossed by the airline's domestic network – from Leh in the North to Agatti in the South and Port Blair in the East to Bhuj in the West. International flights are operated on a regular basis connecting the continents of North America, Europe, Australia and West Asia.
On Ground Services
To provide a seamless check-in experience, passengers can choose from a range of check-in options; web check-in is available for the convenience of passengers for both domestic and international travel. International Air India passengers also have the option to web check-in and city-in. For web check-in the passenger needs to log onto www.airindia.in. This facility is available only 48 hours before departure and closes two hours prior to departure. The city check-in option is currently available only in Delhi at two of DMRC's Airport Express Metro Stations – New Delhi and Shivaji Stadium.
Domestic Air India Passengers can enjoy a variety of on ground check-in options. In addition to city check-in at Delhi and web check-in on the Air India website www.airindia.in, passengers can also avail check-in at kiosks machines installed at major airports or use mobile check-in via the Air India Mobile App (to be downloaded). Frequent Flyer Members and Executive Class Passengers without check-in baggage can use similar services such as tele-check-in from six metro airports – Delhi, Mumbai, Kolkata, Chennai, Hyderabad and Bengaluru.
On Board Facilities
Passengers can choose to fly First class, Executive class or Economy class with Air India. The First class offer a luxurious experience with highly comfortable 180-degree recline sleeperette, delicious entrees and liquor to provide you a truly memorable flying experience. The Executive class is for business and leisure travellers looking for extra space and comfort during travel. Budget travellers, looking for an efficient means of commute, the economy class is your best option.
Inflight Experience
Inflight experiences on board Air India flights are reflections of its glorious past. To quote Air India, "Food for a Maharaja now at your table", the passenger meals served on its international and domestic flights are a delight. First and Executive Class Passengers on board domestic and international flights can avail special meals from a pre-designed menu, enroute countries like USA, UK, Gulf & Middle East, Fat East, South East Asia, Australia, Russia and Europe. On board, passengers are provided with all meals such as breakfast/lunch/dinner and breakfast/hi-tea/lunch/dinner/supper depending on flight time. Additionally, for domestic flights, passenger meals are also provided based on flight duration and range from refreshments to tea/coffee snacks to full meals. Special religious meals basis medical conditions and dietary constraints are also available on special request.
Airport Information
Air India Airport Lounges have been designed to give ample comfort to the passengers. So, the next time you are arriving at the airport for a layover or waiting on a flight that has been delayed, you can make use of the Lounges available at Indian or various partnering airports outside the country. However, lounges are available for use subject to the connecting time between your subsequent flights. Once in, you can enjoy an array of foods and beverages from the self-service buffet or bar counters; keep yourself updated with a variety of newspapers and magazines. Alcohol availability and/or consumption are limited to the respective airport norms in various countries.
Checked Baggage Allowances
Check-in baggage weight allowances range from ten kgs in ATR flights to 40 kgs in First Class flights for domestic travels. Gold and Club members can enjoy additional baggage allowances. On international flights, baggage allowances are subject to the weight limits set by the departure and arrival destinations. However, for both domestic and international flights, the maximum permissible weight for a check-in baggage is restricted to 32 kgs for a single piece.
History
From the Moth Series of planes that started it all to gradual cruise and post-war planes to modern luxury planes from Boeing and Airbus, a total of 24 types of planes have been introduced in the Air India fleet overtime. The best one till date is the Boeing B 787 Dreamliner.
Management
Air India is managed by a board of eight directors, headed by Shri Pradeep Singh Kharola, Chairman and Managing Director, Air India Ltd. Air India Limited has its registered office and headquarters at Airlines House, 113, Gurudwara Rakabganj Road, New Delhi - 110 001.
Star Alliance Members
The member airlines of Star Alliance are: Adria Airways, Aegean Airlines, Air Canada, Air China, Air India, Air New Zealand, ANA, Asiana Airlines, Austrian, Avianca, Avianca Brasil, Brussels Airlines, Copa Airlines, Croatia Airlines, EGYPTAIR, Ethiopian Airlines, EVA Air, LOT Polish Airlines, Lufthansa, Scandinavian Airlines, Shenzhen Airlines, Singapore Airlines, South African Airways, SWISS, TAP Portugal, Turkish Airlines, THAI and United.
Flight Status
Travellers can check the status of their booked flights, explore flight options and book their flights online. Currently, flight information is available for Air India operated flights only and can be accessed at https://book.airindia.in/itd/itd/lang/en/travel/flightinfo.
Web Check In
For web check-in, passengers need to visit https://icheck.sita.aero/iCheckWebAI/. They can find their flight by either by using their E ticket number/booking reference or by entering their frequent flyer number on the link.
Customer Support
For help and support, travellers can call on the toll free number 1800 180 1407 in India only. The AI Contact Centre can also be reached at +91-22-25818515 and +91-44-66921455 for calls from outside India (chargeable by your telecom service provider).
Connectivity and Fleet Information
Air India has a global presence in four continents with a connectivity of 37 international and 69 domestic destinations. Totaling to a fleet of 119, Air India is the proud airline service operator of ATR, Airbus and Boeing family airplanes.
Air India FAQs
Q: How many routes served by Air India in total ?
A: There are around 359 Routes
Q: What's the cheapest fare by Air India ?
A: Rs. 1570.0 is the cheapest fare for Cochin to Chennai on 19 Jun 2019 by Air India.
Q: Does Air India have options for online seat selection?
A: Yes, Air India offers online seat selection at a nominal fee.
Q: Which is the cheapest destination city for Air India?
A: The cheapest destination city for Air India is Chennai.
Q: Does Air India allow web check-in?
A: Yes, Air India allows web check-in.
Q: What's the best date to travel when I can get the lowest fare from Air India ?
A: 19 Jun 2019 is the cheapest date with lowest fare by Air India.
Q: What is the cheapest price on flight tickets offered by Air India?
A: The cheapest price on flight tickets offered by Air India is 1570.0.
Q: What is the airline code for Air India?
A: The airline code for Air India is AI.
Q: What is the total number of routes serviced by Air India?
A: The total number of routes serviced by Air India is 359.
Q: What is the cheapest date to travel by Air India?
A: The cheapest date to travel by Air India is 19 Jun 2019.
Q: Which is the cheapest source city for Air India ?
A: The cheapest source city for Air India is Cochin .
Air India Domestic Routes