About Jet Airways
Jet Airways started its operations in 1993 as an air taxi operator with a fleet of 4 Boeing 737-800 aircrafts. Ever since the beginning, Jet Airways has bagged numerous accolades to its credit for their efficiency, luxury and quality services. It is the first airline in India to achieve status of a super brand in 2003. Apart from receiving several other awards, Jet Airways was also a recipient of the 'Best Domestic Airline Award' by Travel Trade Gazette in 2002 and was titled as 'India's most respected company in the Travel and Hospitality Sector' in 2003. They started their services to the international destinations in 2004 to countries like Srilanka, which was their first international destination. Jet Airways is registered under the IATA Operational Safety Audit (IOSA), which is an international auditing system that assists airlines globally to improve safety on flights, enable codeshare agreements and helps in audit reduction.
Jet Airways Offers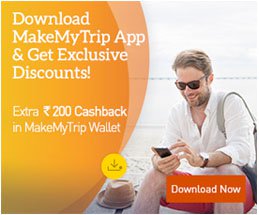 Get lowest airfare offers on Jet Airways on all domestic routes in India.Best deals on Jet Airways flight tickets at an exemplary prices. Online booking of Jet Airways in very cheap prices.
Get this Offer
Jet Airways Popular International Routes
Jet Airways Flight Status
In keeping with their commitment to timeliness, Jet Airways informs its travellers regarding any changes in flight

...

timing via SMS to provide a seamless and pleasant experience to all their passengers. Travellers can also check the flight status of their Jet Airways flights on MakeMyTrip. Travelers can check their Jet Airways flight schedule here.
more
Check Status

Contact Information
Airline e-mail:memberservices@jetprivilege.com
Phone Number:+(91) 22 3989 3333

Baggage
Free checked baggage allowance for Jet Airways flights for every adult and child includes: regular fare: 15 kgs, return fare: 15 kgs. The dimensions of the checked baggage should not exceed 62 inches in the sum of length, breadth and width. Passengers can book prepaid excess baggage 6 hours prior to departure at the rates mentioned on the company's official website.
Baggage Allowances
| Sector | Adult | Child | Infant |
| --- | --- | --- | --- |
| DEL-BOM | 15 kg | 15 kg | 0 kg |
| Sector | Adult | Child | Infant |
| --- | --- | --- | --- |
| BOM-DEL | 15 kg | 15 kg | 0 kg |
more
Web check-in
Web check-in passengers can use the Baggage Drop Counter to check-in luggage quickly and easily. Travellers can

...

also save time by checking in at the priority counters for Jet Airways at selected airports for a fee of Rs. 400. MakeMyTrip also provides web check-in services for the passengers of JetAirways.
more
Web Check-in

Travel Insurance
Jet Airways also introduced the Hello 6E retail magazine for an exciting shopping experience at 20,000 feet which ca

...

ters to both children and adults.
more

Jet Airways Inflight Services
The onboard facilities in Jet Airways vary as per the international and domestic destinations. Domestic flights offer their passengers a choice to travel in economy and premier classes while passengers travelling to international destinations can also avail benefits of first-class category apart from the other two

...

The premier seats on a domestic flight include 2x2 seating configuration of 40 inches wide seats. International and Indian cuisines are served to the premier class passengers. The premier class for international routes provides facilities like lie-flat beds with 15.4 inches LCD screens on the front panels. The economy class seats in international flights have hammock headrest and 10.6 inches LCD screens. Seats in the economy class of domestic flights are equipped with 4-way headrest with ample legroom for promoting a pleasant and comfortable travel experience to the passengers. Passengers traveling in first-class of Jet Airways are provided with, noise- cancelling headphones from Bose along with the 23 inch flat LCD screens for an uninterrupted entertainment. In first-class category, seats are exclusively designed to promote luxurious privacy with night-sky mood lightings and a five-course meal with an extensive liquor collection is offered to the passengers. The crockery provided in the first-class is designed by William Edwards, a prominent British ceramic designer. Their in-flight duty free service JetBoutique offers Jet Airways passengers an opportunity to purchase luxury products,cosmetics, watches, jewellery, liquor and many more. Passengers can also browse through their in-flight magazine called Jet Wings.
more
Jet Airways Booking and Mobile Services
Jet Airways has a mobile application called Google Now, which provides relevant information on flight updates. Passengers are required to provide their working Gmail account at the time of booking tickets to get latest updates about their flight through the app on their iOS or Android devices. With Google Now, passengers can also get their e-Boarding Pass. Passengers can book their e-Tickets or pay for them through the IVR (Interactive Voice Response) system that is secured by an industry standard SSL encryption technology by VeriSign and Thawte. Passengers within India can also call on 39893333 for further assistance. After the authorization of a passenger's credit card, e-Tickets would be sent to their registered email address. Passengers travelling to destinations within India with Jet Airways can book their tickets and can pay for them through the IVR system one hour before the flight's departure time whereas the passengers travelling to international destinations can book their tickets using the IVR system upto 2.05 hours before flight's departure. To check the lowest fare or flight status, Jet Airways passengers can also check through their Twitter handle or can also seek the information simply by tweeting @jetairways #JetInstant.
Jet Airways Special Services
Jet Airways provides several special offers to their passengers. One such is the eduJetter program, which provides convenient flight options for the students living abroad. Student passengers are allowed to carry baggage weighing up to 69 Kilograms with added benefits from Cox & Kings, JetEscapes, and Uniconnect. Cox & Kings has their 'Student Special' program where they provide free ISIC cards along with multi-currency prepaid visa cards. Whereas,Uniconnect provides international SIM cards to students going abroad. Jet Airways also has a digital platform for small and medium-sized enterprises (SMEs) called GlobalLinker. SME owners who travel in Jet Airways can create their company accounts and advertise using GlobalLinker, apart from booking hotels and availing emergency assistance services through this platform. Jet Privilege is a loyalty program operated by Jet Privilege Private Limited. This program allows passengers to earn JP Miles which can then be used by them to travel to any destination for free. Apart from flying to various destinations, Jet Privilege members can avail several other benefits that include shopping from various luxury retailers or dine at the famous restaurants in different parts of the world. JP Miles can be earned through any of the Jet Airways partners. Jet Privilege members who travel on Etihad Airways, Etihad Regional, Alitalia, Air Serbia and Air Seychelles can also earn JP Miles. JP Miles are calculated on every 500 miles the passenger travels and offer several discounted fare options to the passengers to choose from. Some Jet Privilege members can also carry excess baggage.
Jet Airways Connectivity and fleet information
Currently Jet Airways extends their services to 20 international and 44 domestic destinations. It has also partnered with several other airlines through codeshare and interline agreements to provide better connectivity to their passengers. Its codeshare partners are Etihad Airways, Air Canada, Fiji Airways, and KLM Royal Dutch Airlines and many others. Jet Airways has interlined partnerships with several other airline companies like Aegean Airlines, Finnair, Scandinavian Airlines, and Vistara. Jet Airways has a current fleet of 119 aircraft. It has 9 Airbus 330, 18 ATR 72, 82 Boeing 737 and 10 Boeing 777 aircraft. Jet Airways today is the second largest airline in India.
Jet Airways Domestic Routes
Jet Airways flights across India; fly to destinations like Lucknow, Coimbatore, Patna, Hyderabad, Kolkata, New Delhi, Mumbai, Kolkata and Chennai. Coimbatore is popularly known as the 'Manchester of South India' because of the textile industry and Coimbatore Humor Society. Kolkata is another interesting destination to visit because of its rich culture, cuisines, delicacies, literature and art forms.
Jet Airways International Routes
Jet Airways flights internationally fly to countries like Singapore, Toronto, London, Dubai, Kuala Lumpur, Kathmandu and Doha.
Jet Airways FAQs
Q: What is the airline code for Jet Airways?
A: The airline code for Jet Airways is 9W.
Q: What is the cheapest date to travel by Jet Airways?
A: The cheapest date to travel by Jet Airways is 19 Apr 2019.
Q: What is the total number of routes serviced by Jet Airways?
A: The total number of routes serviced by Jet Airways is 2.
Q: How many routes served by Jet Airways in total ?
A: There are around 2 Routes
Q: Which is the cheapest source city for Jet Airways ?
A: The cheapest source city for Jet Airways is Jaipur .
Q: What's the best date to travel when I can get the lowest fare from Jet Airways ?
A: 19 Apr 2019 is the cheapest date with lowest fare by Jet Airways.
Q: Does Jet Airways allow web check-in?
A: Yes, Jet Airways allows web check-in.
Q: Does Jet Airways have options for online seat selection?
A: Yes, Jet Airways offers online seat selection at a nominal fee.
Q: What is the cheapest price on flight tickets offered by Jet Airways?
A: The cheapest price on flight tickets offered by Jet Airways is 10974.0.
Q: Which is the cheapest destination city for Jet Airways?
A: The cheapest destination city for Jet Airways is Patna.
Q: What's the cheapest fare by Jet Airways ?
A: Rs. 10974.0 is the cheapest fare for Jaipur to Patna on 19 Apr 2019 by Jet Airways.
Jet Airways Domestic Routes