About GoAir
Go Airlines (India) Ltd., commonly known as GoAir, is a business venture of The Wadia Group that it started in 2005. The Wadia Group has been at the forefront of corporatism in India for the last 250 years and has expanded into aviation, textiles, chemicals, plantations, food, electronics and many other industries.GoAir's network is spread around the best holiday destinations in India along with its major cities. GoAir fares are 'pocket-friendly' – in fact, they are as low as train fares. Their theme is 'Fly Smart', assuring quality and consistent efficiency with time as their business model is based on the principles of punctuality, affordability and convenience. They are also regarded as the 'Smart People's Airlines'. They aim to achieve uniqueness in the service industry to maintain as well as strengthen their position in the market.They are open to adopting new technology to enable passengers to save time. Recently, for their Passenger Service System, they partnered with a leading technology supplier of automated aviation and travel-related software solutions named Navitaire. In October 2016, they were approved by the International Air Transport Association's Operational Safety Audit (IOSA).GoAir uses the Airbus A320 aircraft fleet and has placed an order of 144 Airbus A320 Neo aircraft. Currently, 23 aircraft are part of its fleet.
GoAir Offers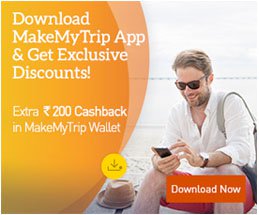 Get lowest airfare offers on GoAir on all domestic routes in India.Best deals on GoAir flight tickets at an exemplary prices. Online booking of GoAir in very cheap prices.
Get this Offer
GoAir Popular Domestic Routes
GoAir Popular International Routes
GoAir Flight Status
In keeping with their commitment to timeliness, GoAir informs its travellers regarding any changes in flight

...

timing via SMS to provide a seamless and pleasant experience to all their passengers. Travellers can also check the flight status of their GoAir flights on MakeMyTrip. Travelers can check their GoAir flight schedule here.
more
Check Status

GoAir Contact Information
Airline e-mail:refunds@goair.in
Phone Number:092-2322-2111

GoAir Baggage Guidelines
Free checked baggage allowance for GoAir Airways flights for every adult and child includes: regular fare: 15 kgs, return fare: 15 kgs. The dimensions of the checked baggage should not exceed 62 inches in the sum of length, breadth and width. Passengers can book prepaid excess baggage 6 hours prior to departure at the rates mentioned on the company's official website.
Baggage Allowances
| Sector | Adult | Child | Infant |
| --- | --- | --- | --- |
| BOM-DEL | 15 kg | 15 kg | 0 kg |
| Sector | Adult | Child | Infant |
| --- | --- | --- | --- |
| HYD-DEL | 15 kg | 15 kg | 0 kg |
more

GoAir Web check-in
Web check-in passengers can use the Baggage Drop Counter to check-in luggage quickly and easily. Travellers can

...

also save time by checking in at the priority counters for GoAir at selected airports for a fee of Rs. 500. MakeMyTrip also provides web check-in services for the passengers of GoAir.
more
Web Check-in

GoAir Travel Insurance
TATA AIG General Insurance Company Ltd offers travel insurance for GoAir passengers with special lowest rates.

...

For a worry-free travel experience, passengers can get a Travel Insurance on the MakeMyTrip website or mobile app.
more

GoAir Inflight Services
GoAir Airlines offer paid meals refreshments from Café Coffee Day in flights and offers alcoholic beverage for International Flights.

...

Travellers can also check the flight status of their GoAir flights on MakeMyTrip.
more

GoAir Customer Care
On their website, https://www.goair.in, GoAir offers convenient options for customers to book airline tickets at any time from the comfort of their homes. One simply has to fill in the details from one destination to the next, providing the dates for departure and arrival, along with the travellers' particulars - the adults and the accompanying children and/or infants. Different discounted rates are available for students, senior citizens and armed forces personnel. One can also avail cheap air fares with a 10% discount from their new GoAir application that can be downloaded from Google Play and Apple App Store. The booking period for this offer ends on 31st January, 2018. GoAir has also come up with cost effective airfares in their #LowFareWednesday so that one can enjoy travelling around India on domestic flights. This offer ends on 18th February, 2018 and is limited to Chennai, Benguluru, Mumbai, Delhi, Hyderabad, Pune, Lucknow, Bhubaneshwar, Goa, Patna, Kochi, Ranchi, Ahmedabad, Hyderabad and Nagpur.

GoAir Web Check-In
Customers who do not have credit or debit cards or do not have access to the Internet can simply book their tickets through the GoAir Call Centres or any travel agency. They can also directly get tickets from GoAir airport centres.
The web check-in process is quite simple in GoAir. One is required to provide his/her PNR (Personal Name Registration) and his/her last name or email address on the GoAir website mentioned above for the check-in.
Laptops must not be used while landing and takeoff. Mobile phones and CD players must be turned off when on board. Photography is not permitted at defence airports. Sport items must be put in the check-in baggage – they are not allowed with the traveller on board.
GoAir does not allow items that endanger the safety of its passengers. The standard baggage allowance on GoAir flights is 15 kilos and extra baggage allowance must be pre-purchased in increments of 5 kilos, 10 kilos, 15 kilos and 30 kilos on the GoAir website. The extra baggage fee can be refunded if the journey is cancelled. However, if it is a 'No Show', then the same is not refundable.
GoAir - Network
GoAir has a well-researched network of 230 flights daily and 1,600 flights weekly for 23 destinations that cover all the major metro cities of India.
Their network is spread around Ahmedabad, Bagdogra, Bengaluru, Bhubaneshwar, Chandigarh, Chennai, Delhi, Goa, Guwahati, Hyderabad, Jaipur, Jammu, Kochi, Kolkata, Leh, Lucknow, Mumbai, Nagpur, Patna, Port Blair, Pune, Ranchi and Srinagar. Ahmedabad, being the 'Textile City of India', is a great place for business and serves as a perfect intersection for touring other parts of Gujarat. Bagdogra airport serves as an intersection to change flights from Kolkata. Guwahati, along with New Delhi, are major junctions to visit the hill stations of Darjeeeling, Kalimpong, Pelling and Gangtok. The tea plantations here are worth seeing. Bengaluru, known as the Garden City, is a great place to visit as it is one of the fastest-developing cities in the world. It is also known for its great weather. Bhubaneshwar, known as the 'City of Temples', has a booming handicrafts industry. Delhi is the place for many wonderful landmarks and monuments, and has a vibrant cosmopolitan culture. Jammu is situated at the foot of the mountains and has a lot of temples. It offers many kinds of adventure sports as well. Leh is in Ladakh and is filled with arid mountains. Its quietness and breathtaking landscape make it the perfect place for an ideal vacation, away from the hustle of modern city life. Jaipur, also known as the 'Pink City', is surrounded by rocky hills on all sides. Ranchi is the 'City of Waterfalls' and the capital of Jharkhand. It has many picturesque attractions and deserted rocks. Pune is known to be a friendly city. It is suitable for everyone – one can visit Pune's corners that sell coffee and ice cream or opt for its high-end theme bars. The city is also known for the famous German Bakery and the Osho Ashram. On the outskirts too there are interesting places to visit - one can see the hard-wearing forts and the ruins of the old Maratha Empire. Lucknow is a multicultural city and is known as the 'Constantinople of India'. Mumbai is considered to be the commercial capital of India and has an energetic nightlife. Port Blair is the capital of Andaman and Nicobar Islands - it is the junction from where one can go to the islands. It serves as a major base for the Indian Navy and the Indian Coast Guard. Goa is every tourist's ideal destination. It has many sandy beaches and is surrounded by natural beauty. It also offers diverse water sports and is known for its multicultural architecture. Kolkata is known to be the 'City of Joy' and was the capital of India during British Raj. It still preserves the atmosphere of the colonial rule and has its own unique cuisine. Guwahati is the gateway to North Eastern India and is known to sell local handloom articles such as Muga Silk. The Kamakhya Temple in Guwahati has a great appeal and several historical landmarks. Chennai is an important centre for Carnatic music and Bharatnatyam dance. It is also a huge part of India's automobile industry.

GoAir - Priority Check-In
GoAir not only provides priority check-in but also offers priority baggage with only 400 INR. This service can be bought by the customer not later than two hours prior to the departure time. This is a pre-paid service and is non-refundable. This feature is available at the Benguluru, Mumbai, Goa, Ahmedabad, Kolkata, Cochin, Delhi, Guwahati, Port Blair and Chennai airports.

GoAir - Connectivity and Fleet Information
GoAir's base is in Mumbai and Delhi. Some popular GoAir domestic flights are Mumbai to Delhi, Delhi to Mumbai, Delhi to Patna, Mumbai to Bengaluru, Bengaluru to Mumbai, Patna to Delhi, Srinagar to Delhi, Delhi to Ahmedabad, Delhi to Srinagar and Ahmedabad to Delhi.
GoAir FAQs
Q: What is the cheapest date to travel by GoAir?
A: The cheapest date to travel by GoAir is 06 Mar 2018.
Q: What's the best date to travel when I can get the lowest fare from GoAir ?
A: 06 Mar 2018 is the cheapest date with lowest fare by GoAir.
Q: Does GoAir allow web check-in?
A: Yes, GoAir allows web check-in.
Q: What's the cheapest fare by GoAir ?
A: Rs. 1026.0 is the cheapest fare for Cochin to Chennai on 06 Mar 2018 by GoAir.
Q: How many routes served by GoAir in total ?
A: There are around 198 Routes
Q: Does GoAir have options for online seat selection?
A: Yes, GoAir offers online seat selection at a nominal fee.
Q: What is the cheapest price on flight tickets offered by GoAir?
A: The cheapest price on flight tickets offered by GoAir is 1026.0.
Q: What is the total number of routes serviced by GoAir?
A: The total number of routes serviced by GoAir is 198.
Q: What is the airline code for GoAir?
A: The airline code for GoAir is G8.
Q: Which is the cheapest source city for GoAir ?
A: The cheapest source city for GoAir is Cochin .
Q: Which is the cheapest destination city for GoAir?
A: The cheapest destination city for GoAir is Chennai.