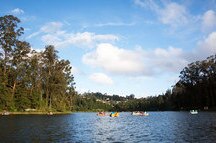 DEAL
Book your Holidays on MakeMyTrip APP or WEBSITE & get upto 25,000 Off..~Online Special !..
Know more
Call us toll free :1800-103-8800
Coimbatore Travel Packages - Sightseeing / Activities / Places Of Interest
Treat yourself to Coimbatore travel packages. Whether you're looking for a travel package to relax and indulge, special travels in Coimbatore with friends and family, a trip to your favourite chillout spot or a new adventure, you've come to the right place. Relive your life again and add a little spice to it with exciting Coimbatore travels. MakeMyTrip offers great deals and discounts on various vacation packages. Discover Coimbatore tourism, travel to Coimbatore Weekend Getaways and its various tourist attractions with Coimbatore holiday packages. Explore exciting Coimbatore honeymoon packages with luxury Coimbatore tour packages. Don't miss our best value deals for other travel destinations across India. Coimbatore Tour Packages - Best offers on Coimbatore travel packages at MakeMyTrip. Click to book customized Coimbatore packages & get exciting deals for Coimbatore holiday vacation packages.
Coimbatore Tour Packages - Traveller Reviews
Great Support By SENTHILKUMAR CHANDRASEKARAN
Thanks for your support. You were good on clarifying the queries and I am satisfied.


Thanks,
Senthil.
..[+] More
Great Help By JIBIN VARGHESE
I am very grateful to make my trip, for the cooperation and support. I am very sorry to inform that, it was a mistake from the part of me. After talking to your customer care officer. I came to remember that I am done this transaction from another account. And I am checked that account yesterday and the amount was already credited on that account. I really apologies for my mistake and very sorry for that. Thanks for the nice co-operation with me

Yours truly
Jibin varghese
..[+] More
Feedback By ADITI GARG
Reservation is easy with Make My Trip and it is convenient to use.
Coimbatore Places to visit Map
{"coimbatore":{"lat":"11.0168","long":"76.9558"},"Ooty":{"lat":"11.4064","long":"76.6932"}}
Recommendations Holiday Packages at MakeMyTrip