Panchgani Travel Packages - Sightseeing/Activities/Places of Interest
Panchgani of the blossoming silver oaks and poinsettias is where you must head for some peace and solitude, away from the chaos of city life. Its proximity to Mumbai (285 km) and Pune (100 km) makes Panchgani a perfect weekend getaway for people in these cities. With various tourist attractions including waterfalls and scenic viewpoints, Panchgani holidays are the perfect mix of relaxation and interesting activities. During your Panchgani tour, visit Sydney Point and Parsi Point to view the sparkling waters of Dhoom Dam and surrounding hillsides. Table Land, a vast expanse of volcanic plateau, offers a view of the popular site Devils Kitchen, which is believed to date back to the Mahabharata era along with the Pandavgad Caves located close by. During your Panchgani tour also include excursions to Rajapuri Caves, 10 km away and the Lingmala Falls in Mahabaleshwar. Another site worth a visit, especially for those with a religious inclination, is the temple of the local deity Ghatjal Devi, where a small fair is held during harvest season. With Panchganis pleasant weather, enjoy long walks and horse riding on yet undiscovered paths or pack a snack and head off to a secluded waterfall for a private picnic all your own. Just pack a bag and head for a holiday in Panchgani.Panchgani Packages - Best offers on Panchgani Tours & travel packages at MakeMyTrip. Click to book customized Panchgani packages & get exciting deals for Panchgani holiday packages.
Packages for Panchgani Travel
Total 2
Panchgani Travel Packages Available
|
Price Starting from :

Rs.

4,949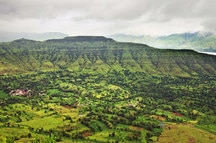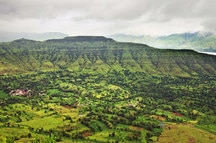 Panchgani Packages – Book Panchgani Holiday Tour Packages at makemytrip.com
Panchgani Travel Packages
Set close to the Krishna River in the verdant Sahyadri mountain ranges within Maharashtra, Panchgani is a quiet little hill station. Surrounded by five hills that the town derives its name from, Panchgani is located at an altitude of 4242 feet, just 18 km away from Mahabaleshwar. Panchgani tour packages offer a range of accommodation options along with sightseeing tours within Panchgani town and around. Besides various viewpoints, picnic spots and waterfalls that most hill stations are dotted with, you can explore the various historic sites in the region during your Panchgani vacations. Various cheap holiday packages also cover sites around Mahabaleshwar along with Panchgani tours. So, get ready for a splendid holiday in Panchgani!..[+] More
In a Hurry?
Drop a query to get best deals!
Recommendations Holiday Packages at MakeMyTrip