seoul Travel Packages - Sightseeing / Activities / Places of Interest
Planning your own travel package? Why not plan a mesmerizing travel to seoul. Go for a thrilling travel to seoul matched with exciting seoul travel packages from MakeMyTrip.com. seoul, a dynamic city rich in contrast and colour has something to offer every traveller Also find low price travel packages and travel deals for other popular international travel destinations across the world.seoul Packages - Best offers on seoul Tour & Travel packages at MakeMyTrip. Use coupon Code: MYHOLIDAYS to get Rs.1000 off deal for seoul holiday vacation packages & customized seoul packages.
Packages for seoul Travel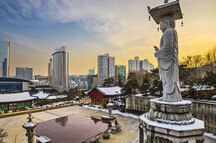 Rs.54,638
Rs.54,638
per person
seoul :
Oakwood Premier Coex...
seoul :
Mare Gangnam Hotel
View more
seoul Packages, Travel | seoul Tour Package, seoul Holiday Packages - seoul Holidays : MakeMyTrip
Customize Packages at MakeMyTrip
Recommended Holiday Packages