Hotel Bloom Brussels, Brussels - Check Price to see Offers & Deals on Room Rates
Get the Best price for your upcoming stay in Hotel Bloom Brussels - Picked from best Hotels in Brussels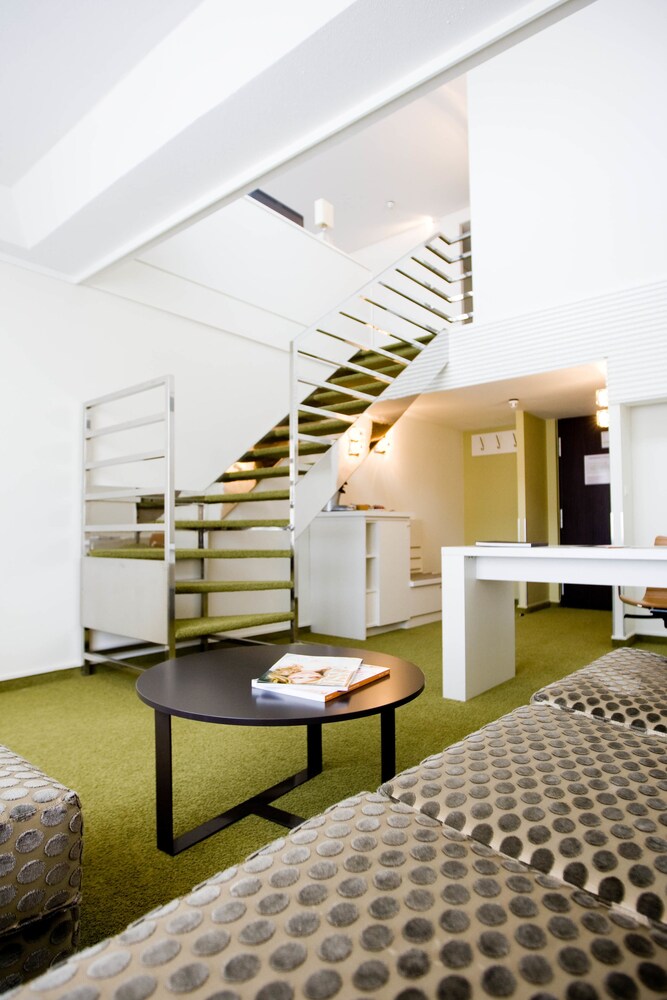 Hotel Bloom Brussels Overview
Bright shades, contemporary designs and premium facilities define Hotel Bloom Brussels, located on Rue Royale, right in the heart of Brussels. This stylish art hotel is accessible in few minutes from both Brussels Airport and Botanique metro station. Botanic Garden Meise, home to a rich and diverse
collection of plants, is located just 15 minutes away from here. There is a unique art gallery in the hotel exhibiting works of new talented artists. For corporate events, there are 12 modern meeting rooms with LCD projectors and integrated screens. For fitness and recreation, the hotel also offers a meeting lounge, fitness centre and facilities for games. Free Wi-Fi is available in all areas. For accommodation, the hotel maintains 305 stylish and well-furnished rooms with artistic paintings and luxurious furnishings. All rooms have a spacious workspace with work desk and an ergonomic chair. In-room amenities include LCD TV, seat with footrest, tea/coffee making facilities, refrigerator and free Wi-Fi. En suite bathrooms are spacious, stylish and feature modern bath amenities. Try out some delicious dishes at the hotels chic OO. Restaurant, offering freshly prepared breakfast. Guests can also bake their own waffle at the impressive waffle truck parked in the centre of the restaurant. Take a break from busy schedule and enjoy exotic drinks at the bar/lounge area. At a 5- minute drive from here, Royal Tandoori Indian Restaurant serves palatable Indian fare. For short hunger pangs, there is a Grab and Go-corner at the reception, serving mouth-watering snacks throughout the day. Explore the history of Belgian comics at the popular Belgian Comic Strip Center, located just 900 m away from the hotel.
Amenities
Map Location

Sort By
Most Recent

Rating (High-Low)

Rating (Low-High)

Shaul
1430073000000
2015-04-27
4 traveler
Nice hotel, friendly stuff close to city center

Shubhada Ashok Pawar
1451759400000
2016-01-03
4.1friends traveler
It was a pleasant stay and value for money. Good locality, clean and close to the city center. Most of the attractions are very close. The hotel staffs were very professional in assisting us. Overall me and my friends were happy about choosing this hotel.

Bhanu
1440873000000
2015-08-30
Very much recommended
4.8Couple traveler
Had a wonderful stay, excellent hospitality, nice room, Tram in front of hotel. They have given complementary drink on the occasion of my birthday. But I didn't liked the city. But the stay was comfortable.

Ramasubramanian Srinivasan
1451759400000
2016-01-03
3.9friends traveler
This hotel is close to the city centre, hence accessibility to most of the tourist attractions are good. The staff were very supportive and helping me and my friends with tourist information and city travel map. Overall the trip was memorable and kudos to the hotel bloom.

Anonymous
1281637800000
2010-08-13
4 traveler
Bloom Hotel is exceptionally stylish. You will be bewitched for awhile admiring its beauty. In general, value for money with exception of the below: 1) Hotel bathroom could be cleaner. Red soap scum is visible. 2) we paid for Euro15.00 per person for breakfast. Although it has variety of choices, the hot food was COLD. 3) When we were at the bar enjoying our cocktail till late, there is a lady staff member sitting and whinning about how she hated her job, and the only thing making her stay was the staff. Went on even until we left the bar as we are not able to order the drinks anymore at 1am. We now even know that lady staff members stays at the hotel, and she is very unhappy. Not appropriate I think 4) Our bill was 47euros. I gave the bar man 50, which I planned anyway to give the 3 euros as tip. But never did I expect, he did not even bother to give me the change back so I can say it for him. He was not even the bar man who makes us the drinks. He was only busy chatting with the girl who was complaining and we have a couple of time attract his attention to order. A couple of times, few others including my self bought a draught beer. He did not even know how to pour it, and all of us end up with nearly i/2 glass of beer and half was foam. People were complaining, but among themselves. I saw how the previous barman (who did us the amazing cocktail) pour the beer, and it is no way like his.Nevertheless, I must say thank you to the barman who makes our drink, prior to the above arrived, was amazing. He was very professional, and polite. Check in and check out was fine.
Hotel Facilities
Bar/lounge
Business centre
Laundry service
Luggage storage
Multilingual staff
Parking (surcharge)