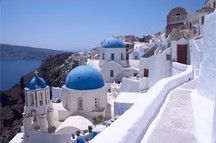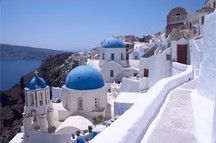 Hotel

Meals

Activity

Transfers
DEAL
Book Online & Get Instant Discount Of INR 5,000 Per Booking!.
Know more
Call us toll free :1800-103-8800
Things To Do in Delphi, Nightlife in Delphi, Shopping Attractions in Delphi - MakeMyTrip
Things To Do In Delphi
The town of Delphi, a popular destination in Greece, offers tourists a number of activities to take pleasure in. Since there are various historical sights, sightseeing is counted among the interesting things to do in Delphi. The well-known places of tourist interest include the Temple of Apollo, Castalian Spring, Polygonal Wall and Treasury of the Athenians. Museums, providing a glimpse of the major historical events, also catch the attention of tourists. The most famous is the Delphi Museum that is noted for the ornaments from the Siphnian treasury. The Sikelianos Museum, which is dedicated to a Greek poet, is also known among travellers. As the town is well-known for its jewellery and sculptures, shopping is one of the best things to do in Delphi. There are some shops that sell museum copied jewellery of Aphrodite. Sculptures, which are made of bronze and plaster, are equally famous in the town. Apart from shopping and sightseeing, another thing that can be enjoyed by visitors is relishing the lip-smacking local dishes. Tourists have plenty of options when it comes to taste Greek cuisine. There are various small restaurants, which are locally known as taverna, serve a wide range of delicacies. Tourists, who are looking for adventure can head up to Mount Parnassus, which is ideal for skiing. Besides, relaxing and soaking up the picturesque views of the surrounding groves of olives are two of the other things that visitors can enjoy here. Since there are so many things to do in Delphi, travellers often extend their vacations to make the most of their stay. Information about Things to do in Delphi like Shopping, Nightlife in Delphi, Activities in Delphi. Traveller reviews and photos, feedback for Delphi attractions.