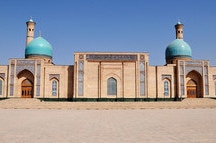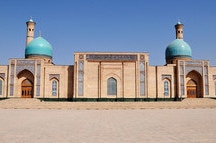 DEAL
Use GOMMT to book this package online & get instant discounts up to to INR 35000 per boo..
Know more
Call us toll free :1800-103-8800
Tashkent - Information About Tashkent Tourist Places, Attractions in Tashkent - MakeMyTrip.com
About Tashkent
Tashkent is the capital city of Uzbekistan, which appeals to tourists as there is a lot to explore. The name has been derived from 'Tash', a word of Turkish origin and 'kent' of Persian origin. Collectively, these two words mean city of stones. Tashkent is a historical city located on the Great Silk Road leading to Europe from China and boasts of over 2.2 million strong population. A fact about Tashkent which many do not know is that the 1966 earthquake badly affected the city and valuable things got destroyed. However, with the development that has taken place over the years, things have changed, not so drastically. The city offers a perfect amalgamation of contemporary office buildings, hotels, parks and ageing apartment blocks built in soviet style. However, Tashkent has nothing to write home about in terms of infrastructure. The Uzbek government has taken it upon itself to initiate a major reconstruction program to bring a change about Tashkent. Under this initiative, the government is remodelling roads, government buildings and parks as well as bulldozing several historical monuments in the process. Over the time, many renowned personalities have stayed in Tashkent including Nobel Prize winner Russian writer, Alexander Solzhenitsyn who was treated at the Tashkent Medical University. He wrote 'Cancer Ward' based on that experience. Famous actress Faina Ranevskaya too lived here and Konstantin Simonov worked as a correspondent for 'Pravda' newspaper. Today, Tashkent is no longer an obscure city, it is now gaining a lot of popularity for its hidden treasures.
The name of this city means "made out of stone". The city boasts about some of the most popular stone made buildings. There is no dearth of attractions that enthral the tourists. Chorsu Bazaar is one of the famous attractions located in the city. This is an open air bazaar where a lot of things are sold at dirt cheap rates. Kukeldash Madrassa is also located close to this market, which is a must visit attraction in this city. Lamenting Mother Memorial and Independence Square are two ore attractions of the city that attracts visitors. These places speak volumes about the rich past of this destination.
This destination is also famous for its shopping facilities. Kontinent and Central Department Store are two famous shopping destinations where visitors can enjoy buying a variety of goods. Women who love to visit mall for shopping enjoys this activity. People can also enjoy a leisurely stroll across the Old Town.Tashkent - Read about Tashkent, Places to visit, Nightlife, Attractions in Tashkent. Explore Restaurants, Shopping centres and tourist places in Tashkent at MakeMyTrip.com.
Recommended Holiday Packages
Tashkent Map
{"Tashkent":{"lat":"41.2995","long":"69.2401"}}