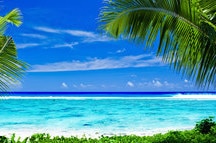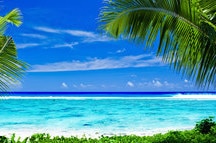 8 Days 7 Nights
Itinerary
Inclusions:
Bora Bora :
Tahiti & Bora Bora C...
Call us toll free :1800-103-8800
Tahiti - Information About Tahiti Tourist Places, Attractions in Tahiti - MakeMyTrip.com
About Tahiti
Tahiti, situated on the South Pacific Ocean, halfway between California and Australia, is a cluster of five archipelagos, namely the Society Islands, Marquesas, Tuamotus, Austral and Gambier. These archipelagos, comprising 118 islands, are spread across two million sq. miles. The best part about Tahiti is its reef-fringed islands and beautiful lagoons, which offer an unparalleled scenic beauty. Located in the Society Islands, the Tahiti Island is the largest and the main among all. A thing to know about Tahiti is that out of its five archipelagos, Society Islands, Tuamotu and Marquesas are most sought-after tourist destinations. The archipelagos comprise islands, like Tahiti, Bora Bora, Manihi and Tikehau, to name a few. These islands are highly acclaimed and popular among tourists from all across the world. The other two archipelagos, Austral and Gambier are located to the south and south-east, respectively of the Society Islands. An interesting fact to know about Tahiti is the philosophy of 'Aita Pea Pea', meaning not to worry, which is followed by Tahitians. Even in this modern era, these people have maintained the culture and traditions passed on to them by their Maohi ancestors. In addition, Tahitians are known for their kind and generous nature. Maohi culture laid huge emphasis on sports and according to legends, javelin throw was considered to be the sport of the Gods and surf riding of kings. The months of July, August and September are perfect for a holiday in Tahiti as the temperature is mild during these months with very less rainfall. Tourists planning a trip to these islands can book their flights to the Faaa International Airport.

Things to do in Tahiti

From romance to adventure, this island offers everything in abundance. A stay at the overwater bungalows, sipping a cocktail, watching the fish dance through the glass, going for a swim or basking in the sun at the Papenoo beach is the most relaxed way of spending time. For an adrenalin rush snorkeling and surfing, hiking up to the Fautauna waterfall amidst lush green ambience satiates the tourists' desire for adventure. The sight of the Rangiroa and Tikehau atolls from a plane is an extraordinary experience. These coral islets surrounding the lagoons and stretching over a vast area is a breathtaking view. A must see when visiting this island is performance of traditional Polynesian dance. They can be enjoyed with drinks and scrumptious food by the beach under the starry sky. A guided tour to see and feed the shark and stingray is exciting and enthralling. They scuttle around you and sometimes even rub their bellies against your feet. Whale watching at the Austral islands is an experience not to be missed. Savor the traditional raw tuna marinated in lime and coconut milk. A ferry ride to the Moorea islands, Tahiti sister island gives an opportunity to explore nature.

Places to visit

Tahiti is in the lap of nature with abounding scenic beauty. The Bora Bora islands, museum of the Tahiti and the Islands, Panaauia beach are some other exciting places.
Tahiti - Read about Tahiti, Places to visit, Nightlife, Attractions in Tahiti. Explore Restaurants, Shopping centres and tourist places in Tahiti at MakeMyTrip.com.
Tahiti Map
{"Bora Bora":{"lat":"-16.5004","long":"-151.741"}}