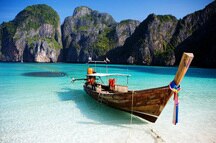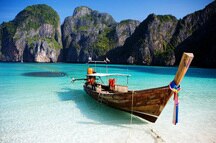 Hotel

Meals

Flight

Activity

Transfers
DEAL
Exclusive Online Offer: Book now and get Rs. 27000 Off for 2 travellers. Additional 10 ..
Know more
Call us toll free :1800-103-8800
Phi Phi Island - Information About Phi Phi Island Tourist Places, Attractions in Phi Phi Island - MakeMyTrip.com
About Phi Phi Island
Phi Phi Islands is a group of six islands in the southern part of Thailand. These islands have become an important tourist destination of the country due to their exquisite and pristine natural beauty. The best thing about Phi Phi Islands is that they are a perfect place to relax with peaceful and cosy surroundings. The six islands part of the archipelago are Ko Phi Phi Don, Ko Phi Phi Leh, Ko Mai Phai or the Bamboo Island, Ko Yung, Bida Nok and Bida Nai. Out of it, only the island of Ko Phi Phi Don is populated. This island is also the largest of the six. The two smaller islands, Ko Phi Phi Leh and Ko Yung can also be visited by tourists looking for some solitude. The islands of Ko Mai Phai, Bida Nok and Bida Nai can be easily termed as three big rocks jutting out of the sea. It is said about Phi Phi Islands that the archipelago was home to one of the oldest communities in Thailand, with archaeological evidence dating back to the prehistoric era. The name Phi Phi is derived from the erstwhile Malay name, 'Pulau Api-Api'. Two Phi Phi islands that are on the tourist radar are Ko Phi Phi Don and Ko Phi Phi Leh. The major attractions on the island of Ko Phi Phi Don are the Viewpoint, the Monkey Beach, the Tsunami Memorial Garden, the Yao Beach, the Lanti Beach and the Ton Sai Bay. In Ko Phi Phi Leh, travellers can go to places like the Phaya Naak Cave, the Maya Bay and the Lohsamah Bay. Travellers thinking about Phi Phi Islands as their next holiday destination would have to book their flights to the Phuket International Airport. From there, the best way to travel to the islands is by boats and ferries. The best time to travel to this tourist destination is during the months between February and April.Phi Phi Island - Read about Phi Phi Island, Places to visit, Nightlife, Attractions in Phi Phi Island. Explore Restaurants, Shopping centres and tourist places in Phi Phi Island at MakeMyTrip.com.
Near By Phi Phi Island Locations
Recommended Holiday Packages