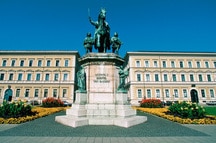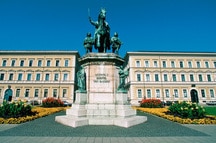 DEAL
Use GOMMT to book this package online & get instant discounts up to to INR 35000 per boo..
Know more
Call us toll free :1800-103-8800
Munich - Information About Munich Tourist Places, Attractions in Munich - MakeMyTrip.com
About Munich
Munich serves as the capital of the German state of Bavaria. The third largest city of the country, Munich is globally renowned for its Oktoberfest, also known as the Munich Beer Festival; Opera Festival and the Summer International Film Festival. Apart from this, there are a lot more interesting facts about Munich that attract visitors in large numbers to this place. The city of Munich is an economic and publishing hub and known for its amazing life-style. As per historical records, in the year 1806, the famous French political leader Napoleon made Munich a part of his domain. The city developed under his reign and a number of beautiful monuments were constructed. Another interesting fact about Munich is that in 1972, the city hosted the prestigious Olympic Games. The Olympic Centre, where the games were held, is an important tourist attraction of this place. It was after this event that the city gained fame on an international level and became an important tourist destination. A trip to Munich is said to be incomplete without a visit to its beer halls. An interesting fact about Munich, many tourists must not be aware of is that the city has the worlds most popular beer hall, known as the Hofbruhaus. The city of Munich is situated on the extreme southern side of the country, and has a continental climate because of its proximity to the Alps. The region experiences extreme weather during the winter season, while in summers the weather remains pleasant. Summers is the best time to explore this beautiful city and to enjoy outdoor activities.Munich - Read about Munich, Places to visit, Nightlife, Attractions in Munich. Explore Restaurants, Shopping centres and tourist places in Munich at MakeMyTrip.com.
Recommended Holiday Packages
Munich Map
{"munich":{"lat":"48.1351","long":"11.582"}}