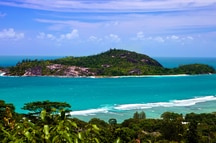 4 Days 3 Nights
Itinerary
Inclusions:
Call us toll free :1800-103-8800
Mahe Island - Information About Mahe Island Tourist Places, Attractions in Mahe Island - MakeMyTrip.com
About Mahe Island
This island looks mesmerising with the backdrop of mountains and awe-inspiring water bodies surrounding the region. The island is home to evergreen forests, large boulders of granite and a rich assemblage of flora and fauna. The forests of the region are renowned for being home to rare species of plants, including the Jellyfish Tree, carnivores Seychelles Pitcher Plant and Seychelles Vanilla Orchid.
A historical fact about Mahe Island is that it was under the possession of French until it became a British colony in 1814. During the period of colonialism, the nation and the island were governed by able administrators, like Pierre Pore and Governor Queau de Quinssy. In 1976, Seychelles became an independent nation and Mahe Island achieved freedom from the influence of British.
The ideal time to visit Mahe Island is during the period from May to September as the weather during these months is cool, and is ideal for most of the outdoor activities.Mahe Island - Read about Mahe Island, Places to visit, Nightlife, Attractions in Mahe Island. Explore Restaurants, Shopping centres and tourist places in Mahe Island at MakeMyTrip.com.
Near By Mahe Island Locations
Recommended Holiday Packages
Mahe Island Map
{"Mahe Island":{"lat":"-4.68267","long":"55.4804"}}