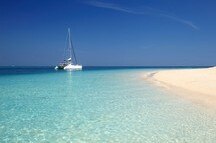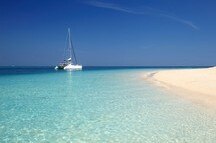 DEAL
Exclusive Online offer: Book Online and get Rs. 10 Off. Valid only for bookings made on ..
Know more
Call us toll free :1800-103-8800
Koh Samui - Information About Koh Samui Tourist Places, Attractions in Koh Samui - MakeMyTrip.com
About Koh Samui
Koh Samui is an island, situated in the Surat Thani Province, on the east coast of the Kra Isthmus in Thailand. It is the second largest island after Phuket in Thailand, and it boasts of rich natural resources, coral reefs and white sandy beaches. The island is home to over 50,000 inhabitants, with Buddhism being the dominant religion. A thing to know about Koh Samui is that it is said to be inhabited around 15 centuries back by fishermen from Malay Peninsula and Southern China. The place finds it mention on the Chinese maps, dating back to 1687, when it was called Pulo Cornam. One intriguing fact about Koh Samui is the origin of its name, which some believe to be an extension of a native tree, Mui. While others believe that, it has been derived from the Chinese term, Saboey, which means 'Safe Haven'. Koh Samui used to be an isolated self-sufficient establishment until the late 20th century, as it did not have any connection with the mainland Thailand. It did not even have roads till 1970s, which meant that it took a full-blown trek to commute from one end of the island to the other. It was during the early 1970s that the first backpackers visited the island. However, tourism gained momentum only towards the early 1990s, with significant progress marked by the place as a whole. As of now, it is the second most popular tourist destination in Thailand after Phuket. This is mainly due to the presence of beautiful lagoons, waterfalls, coconut trees and amazingly clear waters.Koh Samui - Read about Koh Samui, Places to visit, Nightlife, Attractions in Koh Samui. Explore Restaurants, Shopping centres and tourist places in Koh Samui at MakeMyTrip.com.
Customer Travel Reviews
Amazing Trip By VINITA RAJANI
Thanks for your coordination , followup , last moment answers to all questions.

We got timely transport from airport to the restaurant.

Nora Buri was an amazing property as suggested by you . And the Hotel in Bankonk was in the centre quick access to lot of important places.

And Koh Samui was a lovely & amazing place.

Thanks a lot Bhavna because of you this trip has become a memorable trip & close to my heart

Best Regards,
Vinita.Rajani
..[+] More
Recommended Holiday Packages