Malaysian Splendour | 6 Days 5 Nights
Kuala Lumpur (2 Nights) | Johor Bahru (2 Nights) | Kuala Lumpur (1 Nights)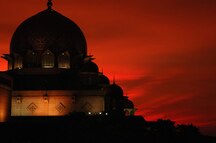 6 Days 5 Nights
Itinerary
Inclusions:
DEAL
Exclusive online offer: instant discount up to Rs 50000. Valid only for bookings made on..
Know more
Call us toll free :1800-103-8800
Johor Bahru - Information About Johor Bahru Tourist Places, Attractions in Johor Bahru - MakeMyTrip.com
About Johor Bahru
Johor Bahru is the capital of the Johor State in Southern Malaysia. This rapidly growing city is one of the largest and most diverse cities in Malaysia. The city boasts of being the keeper to many natural and national treasures untold. An important fact about Johor Bahru is that it is home to the famous royal village, Pasir Pelangi. The city was founded by, Temenggong Daing Ibrahim, in the year 1855. It was a village then and was called, Tanjung Puteri. In 1858, it was renamed as Iskandar Puteri. The village grew into a town, at a rapid speed, under the able rule of Abu Bakar, Ibrahims son. Officially, on January 1st, 2004, the town was recognised as a city. Today, it is Malaysias second-biggest urban area. Another important fact about Johor Bahru is that it has earned the status of being the countrys southern gateway, since the time it has been connected with Singapore through a 1056 m long causeway. The city is influenced by a number of cultures of that of the local Malays, Chinese and Indians. The rich cultural heritage of the city is clearly reflected by the traditional attire of the local people. Besides its history and culture, Johor Bahru is known for its royal palaces and splendid night markets. Travellers thinking about Johor Bahru as their next holiday destination must plan their trip between April and October. This is the ideal time to visit Johor Bahru. Travellers must avoid travelling here between November and February as, during this time, the city experiences heavy rainfall.Johor Bahru - Read about Johor Bahru, Places to visit, Nightlife, Attractions in Johor Bahru. Explore Restaurants, Shopping centres and tourist places in Johor Bahru at MakeMyTrip.com.
Near By Johor Bahru Locations
Recommended Holiday Packages
Johor Bahru Map
{"Kuala Lumpur":{"lat":"3.16667","long":"101.7"},"Johor Bahru":{"lat":"1.49266","long":"103.741"}}