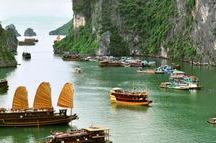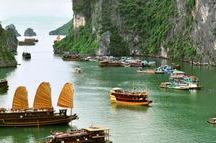 8 Days 7 Nights
Itinerary
Inclusions:
Hotel

Meals

Flight

Activity

Transfers
Hotel

Meals

Flight

Activity

Transfers
Call us toll free :1800-103-8800
Hue - Information About Hue Tourist Places, Attractions in Hue - MakeMyTrip.com
About Hue
Hue is one of those tourist destinations in the world that leave travellers awe-struck by its sheer beauty. Many are unaware of the fact about Hue that it was the capital of Vietnam for more than a century, 1802-1945, when the city was under the reign of the feudal rulers of Nguyen dynasty. It was then that the location became the centre of architectural evolution. The city is revered across the world for its impressive citadels, royal tombs, pagodas and palaces. Also, the fact that Hue is located on the banks of River Perfume inspired many poetries and eulogies. The best part about Hue is that its structures have been laid out in sync with the nature and in accordance with feng shui. Besides, the historical architecture, ancient traditions and practises can still be witnessed in the lifestyle of the residents of Hue. Tourists visiting the city are bound to get rich first-hand experience of these traditions, which have been passed down from generation to generation. These are quite evident in almost every aspect, including cuisine, religion, handicraft, music and traditional festivals. It is because of this dominance of culture that Hue earned the title of being Vietnam's first World Cultural Heritage Site from UNESCO in 1993. Another fact about Hue, important from tourists viewpoint, is its climate. The city experiences a temperate climate with warm summers and cool winters. Tourists can reach this exotic destination by booking flights to the local Phu Bai Airport or the Da Nang International Airport.Hue - Read about Hue, Places to visit, Nightlife, Attractions in Hue. Explore Restaurants, Shopping centres and tourist places in Hue at MakeMyTrip.com.
Recommended Holiday Packages
Hue Map
{"hanoi":{"lat":"21.0278","long":"105.834"},"Ha Long":{"lat":"20.9511","long":"107.08"},"Hue":{"lat":"16.4498","long":"107.562"},"Hoi An":{"lat":"15.8771","long":"108.33"},"Ho Chi Minh City":{"lat":"10.75","long":"106.667"}}