DEAL
Get 15% cashback upto Rs.10,000 with ICICI Bank Credit Cards + Additional instant discou..
Know more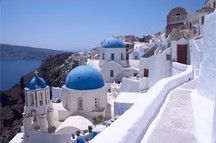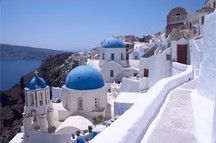 Hotel

Meals

Activity

Transfers
DEAL
Get 15% cashback upto Rs.10,000 with ICICI Bank Credit Cards + Additional instant discou..
Know more
Call us toll free :1800-103-8800
Greece - Information About Greece Tourist Places, Attractions in Greece - MakeMyTrip.com
About Greece
Greece is a Southern European country located on the southern most point of Balkan Peninsula. The neighbouring countries are Albania, Bulgaria, Turkey and Macedonia. This country is spread over an area of 1,31,00 sq. km. An interesting fact about Greece is that not a single destination within the country is farther than 100 km from sea owing to its huge coastline of more than 13,000 km. A peninsula and nearly 1,400 islands together form Greece. Out of the 1,400 islands, only 160 are inhabited. Major portion of Greece's landmass is covered by mountains and is located at a height of around 1500 m above sea level. Mount Olympus is the highest peak in the country, with an elevation of about 2917 m. The ancient country boasts of a historic culture which is reflected in its arts, language, philosophy, politics and sports.
Home to the Olympic Games, most tourists can still visit the Olympia Stadium which is built of stones and mortar. Lion Gate in Myceane still echoes with the lively Greek conversations of 2nd century BC. Famous for Acropolis, the prime tourist sites in Greece are those of Rhodes, Lindos and Thera. Interacting with the tribes of Epirus, Santorini and Edoni is enriching and exciting. It is worth make a comparison between the ancient Corinth and modern Corinth.
The Oracle of Delphi still haunts the tourists with its Hellenic origin. The ancient theatre of Epidaurus still exists. Influenced by Buddhism, Meteora is one of the World heritage sites. Blend into the city of Lycosura in Arcadia, which is referred to as one of the oldest city in the world. Greece is the perfect winter outing in Europe with moderate climate. The triptych of sea, sun and sand is perfect honeymoon attraction. Agia Roumeli and Myrtos Beach are magical destinations. Rated as one of the best beaches in the world, Myrtos is undoubtedly a silent attraction.
Greece was the country which presented Olympics sports to the world. The mountainous mainland, picture-perfect island beaches, nightlife and historical sites make it a preferred holiday destination. It ranks in the top 20 vacation spots in the world. The fact about Greece that it enjoys a high percentage of footfalls is no surprise considering that the Greeks are warm hearted. Besides, Greece enjoys a relatively normal weather with hot and dry summers and winters being wet and cold. The upper part of the country can get quite cold with snowfalls, while in the south the country experiences moderate winters. Greece can be reached by or ferry from destinations worldwide.Greece - Read about Greece, Places to visit, Nightlife, Attractions in Greece. Explore Restaurants, Shopping centres and tourist places in Greece at MakeMyTrip.com.
Recommended Holiday Packages
Greece Map
{"athens":{"lat":"37.9839","long":"23.7294"},"Olympia":{"lat":"47.0379","long":"-122.901"},"Florence":{"lat":"38.2048","long":"-96.9964"},"venice":{"lat":"45.4408","long":"12.3155"}}