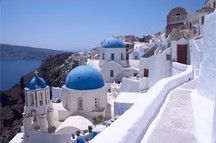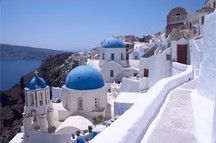 Hotel

Meals

Activity

Transfers
DEAL
Get 15% cashback upto Rs.10,000 with ICICI Bank Credit Cards + Additional instant discou..
Know more
Call us toll free :1800-103-8800
Delphi - Information About Delphi Tourist Places, Attractions in Delphi - MakeMyTrip.com
About Delphi
Delphi, located in Greece, is a UNESCO World Heritage Site that is known all across the world for its majestic historical structures. A geographical fact about Delphi is that it is situated on the slopes of Mount Parnassus. The glorious past, splendid ancient remains and a scenic location render Delphi a unique charm. There are various mythological stories associated with the town of Delphi. One such story about Delphi is that Zeus was eager to know the centre of the Earth and therefore he released two eagles from the opposite ends of the planet. The eagles met in Delphi and the place was called 'The Centre of the World'. Delphi possesses many historical sites, of which the Sanctuary of Apollo and Sanctuary of Athena are the prominent ones. The ruins of these sites provide an insight into the ancient time and are therefore explored by lakhs of tourists every year. Some other monuments in the town are the Treasury of the Athenians, Polygonal Wall, Castalian Spring and Altar of the Chians. The best time to visit Delphi is the summer season as it is ideal for most of the outdoor activities. Tourists who want to see nature at its best can land at this town during the spring season. Winters are ideal for those who want to indulge in ski. Travellers who are thinking about Delphi as their next holiday destination can board flights to the Athens International Airport. The airport lies at a distance of around 220 km, which can be easily covered due to the availability of various travelling options. Delphi - Read about Delphi, Places to visit, Nightlife, Attractions in Delphi. Explore Restaurants, Shopping centres and tourist places in Delphi at MakeMyTrip.com.
Recommended Holiday Packages
Delphi Map
{"athens":{"lat":"37.9839","long":"23.7294"},"Olympia":{"lat":"47.0379","long":"-122.901"}}