YOU MAY ALSO LIKE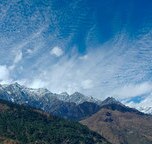 Holiday in Kasauli from Chandigarh (Online Only)
1 Days / Nights
Holiday in Chail from Chandigarh (Online Only)
1 Days / Nights
Shimla Photos, Shimla Pictures / Images, Shimla Photo Gallery : MakeMyTrip.com
query form
Customer Travel Reviews
Well Arranged Trip

By SRINIVASAN RAGHAVENDRAN

Me and my family had made our first trip with Make My Trip. I would say it was one of the most memorable and enjoyable trip.

I would want to thank the trip leader Sandeep for his commitment to make sure everything went well.

As a feedback i have few things that i would want to inform.

Positives:
1. Sandeep is extremely energetic and that keeps all going even during a travel intensive trip like this.
2. We were greeted on time at Delhi airport on time and at every junction of travel we were well informed about our schedules.
3. Sandeep made sure that all our accommodations are comfortable. Even though there were challenges faced by Sandeep in Manali due to the mismanagement by the hotel, sandeep made sure that things went smooth for all tourists.
4. We were informed by sandeep on all do's and donts. Also being a tour guide his involvement in various activities and availability makes lot of difference and that helped.
5. There were regular stoppages and sandeep made sure that all of us are made comfortable.
6. All locations where we stopped for lunch were as per Make My Trip guidelines and we had no issues.

Areas of improvement:

Need to provide more inputs feedback about the locations that we are visiting during briefing sessions and while traveling to the destinations. Some knowledge of the geography and history of the destination would help the tourist to connect better. Though there were enough information on approaching, i would suggest it to be more proactive.

Overall Sandeeps' involvement in the trip and his role is highly commendable and much appreciated.

I look forward for another trip with Make My Trip if possible with sandeep as the guide.

Thanks a ton for arranging everything.

Regards,
Guruprasad
..[+] More
Appreciable Support

By SUPARNA NIYOGI

I had a good trip. Thanks for all the help and support during my stay. In case I can give you an E-card or so to appreciate you on Make My Trip.

JJ resort was the best stay amongst the 3.
Food was very good in all. Also, behavior of staff was good in all 3. Also, the view was pretty good. However, I liked JJ resort the most as everything was just perfect.

Regards,
Suparna Guha Niyogi

..[+] More
Fantastic Trip

By SAMPATH S

Would like to Thank You for arranging a fantastic trip, starting from Chennai till we returned back, the accommodation, taxi pick-up everything was well arranged. They were really good.

Kudos to you.

Thanks in advance for all your help.
Request you to send it at the earliest.

Regards,
Sampath
..[+] More
Shimla Photos
A picture is worth a thousand words! This is very well epitomized by the photos of
Shimla
. Photos of a Shimla are the first thing that you check out before planning a trip to the said Shimla. The photos of Shimla vividly depict its charm and appeal. The very essence of the attractions is captured by the incredible photos of Shimla. The photos of Shimla give you a perspective about all that it has to offer ranging from attractions to delicious cuisines! Again, browsing through these beautiful photos of Shimla will be a great way to relive the wonderful memories of a lovely holiday.Explore Shimla photo gallery, Shimla photos,
Shimla pictures
by Real Travelers of Shimla, view Shimla Sight seeing and tour photos. Explore inspiring pictures of landmarks, hotels, and
attractions in Shimla
, India.
Theme Destinations India:
Popular Themes in India at MakeMyTrip
{"shimla":{"lat":"31.1048","long":"77.1734"},"Manali":{"lat":"32.2396","long":"77.1887"},"chandigarh":{"lat":"30.7333","long":"76.7794"},"New Delhi":{"lat":"28.6139","long":"77.209"},"dharamshala":{"lat":"32.219","long":"76.3234"},"Dalhousie":{"lat":"32.5387","long":"75.971"},"Kasauli":{"lat":"30.8998","long":"76.9672"},"Chail":{"lat":"30.9676","long":"77.1917"},"kullu":{"lat":"31.9579","long":"77.1095"},"amritsar":{"lat":"31.634","long":"74.8723"}}
MakeMyTrip Recommendations for You