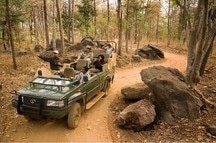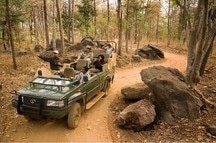 DEAL
BOOK ONLINE use MYHOLIDAYS & get 1000 off..
Know more
Call us toll free :1800-103-8800
Places to Visit in Pench, Sightseeing in Pench, Attractions in Pench - MakeMyTrip
Places To Visit In Pench
Pench is a small village and a National park which is located in the Seoni District of Madhya Pradesh. This place is one of the major contributors in the conservation of Indian Tigers which are now on the verge of extinction and come under critically endangered species. There are various places to visit in Pench which include Aravali hills, Vindhyanchal hills, Stapur and Maikal, Pench National park, Tiger spot and many others. As this village is at the foothills of 4 mountains hence this place is lush green and provides good environment for animal conservation. Here, you can visit the tiger spot where you will see the collar tagging of tigers to keep track of their whereabouts while they are in the wild. Also, some of the tree houses are there in the National park which you can visit for bird watching. There are so many other places to visit in Pench which are camp sites, jungle safari and fist aid training centre. Camp site is famous for spending a night in the wild where you can do campfire and also enjoy the beautiful sky. Also, first aid training centre is where you can learn some tips to handle the injury of your pets and other animals.Pench has many tourist places to visit, there are very nice sightseeing, attractions in Pench which are must see in Pench. Details on Pench city and tourist places.
Pench Map
{"Pench":{"lat":"21.3669","long":"79.1864"}}