DEAL
Get 15% upto Rs.10,000 Cashback with ICICI Bank Credit Cards.BOOK ONLINE use HLDY15 & ge..
Know more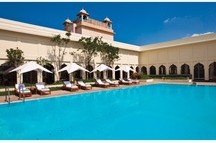 DEAL
Get 15% upto Rs.10,000 Cashback with ICICI Bank Credit Cards.BOOK ONLINE use HLDONLINE &..
Know more
Call us toll free :1800-103-8800
Places to Visit in Mandawa, Sightseeing in Mandawa, Attractions in Mandawa - MakeMyTrip
Places To Visit In Mandawa
Mandwa takes just 45 minutes to reach from the state capital of Maharashtra. This small village located in the state of Maharashtra is an ideal tourist destination for those who are in search of tranquility and a serene environment. There are many places to visit in Mandwa that can help you to make a successful trip. A number of beaches, forts and other attractive places have made the place much popular in the region. The Mandwa Beach is located in the northern part of the Alibag town. More than 20 tents which can be found all around the dense coconut groves have been put up in the beach by the Maharashtra Tourism Development Corporation (MTDC). You can get all sorts of facilities in these tents which include beds, fans and blankets. Kihim beach is another hotspot of the place which is located at a distance of 12 km from Alibag and is well known for its dense cover of coconut trees on the beach, different varieties of flowers, extraordinary birds and butterflies. There are many other attractive places to visit in Mandwa. The adjoining places are also frequently visited by the tourists who come to visit Mandwa. Wardha, Sevagram, Alibag and Kolaba Fort are few of the popular places to visit in the region.Mandawa has many tourist places to visit, there are very nice sightseeing, attractions in Mandawa which are must see in Mandawa. Details on Mandawa city and tourist places.
Mandawa Map
{"jaipur":{"lat":"26.9124","long":"75.7873"},"Mandawa":{"lat":"28.05","long":"75.1487"},"Bikaner":{"lat":"28.0229","long":"73.3119"},"jaisalmer":{"lat":"26.9157","long":"70.9083"},"jodhpur":{"lat":"26.2389","long":"73.0243"}}