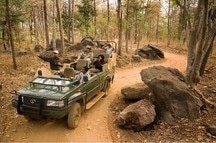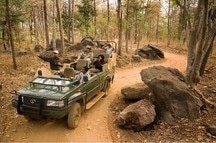 DEAL
BOOK ONLINE use MYHOLIDAYS & get 1000 off..
Know more
Call us toll free :1800-103-8800
Pench - Information About Pench Tourist Places, Attractions in Pench - MakeMyTrip.com
Pench Overview, India
Silence in the air and then all of a sudden groaning of Langurs, swinging of branches of the trees and the complete scene of the jungle back to real life is what Pench Safari is all about. Located on the southern part and at the foot of the Satpura hills in Madhya Pradesh, Pench National Park got its name from the Pench River that flows through this region. Lying on the borders of Maharashtra, it is in the Seoni and Chhindwara district. A world class and among the best tiger reserves, this park has everything to make wildlife lovers go crazy. A special thing about Pench that distinguishes it from others national parks is that it has a very large area and offers one to visit the nearby Bandhavgarh National Park and Kanha National Park in one straight go. Rich in wildlife, it is characterized by dense forests, grassy patches and large shrub cover. Wild animals, birds, flora etc, all can be seen closely at this place. More than 1200 species of plants are been found here, some being among the highly endangered ones and of great biological significance. An opportunity to have a sight of innumerable genus of animals and plants is what Pench offers to its tourists and gives them an incredible lifetime experience.Pench - Read about Pench, Places to visit, Nightlife, Attractions in Pench. Explore Restaurants, Shopping centres and tourist places in Pench at MakeMyTrip.com.
Recommended Holiday Packages
Pench Map
{"Pench":{"lat":"21.3669","long":"79.1864"}}