Nainital Eco Cave Garden Travel Packages - Sightseeing / Activities / Places Of Interest
Treat yourself to Nainital travel packages. Whether you're looking for a travel package to relax and indulge, special travels in Nainital with friends and family, a trip to your favourite chillout spot or a new adventure, you've come to the right place. Relive your life again and add a little spice to it with exciting Nainital travels. MakeMyTrip offers great deals and discounts on various vacation packages. Discover Nainital tourism, travel to Nainital Weekend Getaways and its various tourist attractions with Nainital holiday packages. Explore exciting Nainital honeymoon packages with luxury Nainital tour packages. Don't miss our best value deals for other travel destinations across India.Nainital Eco Cave Garden Packages - Best offers on Tours & travel packages at MakeMyTrip. Click to book Nainital Eco Cave Garden packages & get exciting deals for Nainital Eco Cave Garden holiday packages.
Packages For [Nainital Travel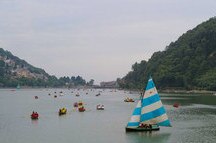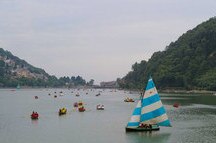 Nainital Eco Cave Garden Packages – Book Nainital Eco Cave Garden Holiday Tour Packages at makemytrip.com
Nainital Eco Cave Garden Packages - Traveller Reviews
About Nainital Eco Cave Garden
Eco Cave Garden is a cluster of interconnected caves and hanging gardens, which are one of the popular tourist attractions of the hill station. There are six underground caves in this garden, connected through tunnels. Named after various wild animals that they resemble, some of these caves are so narrow that people have to crawl through them, which in turn adds to the fun and adventure. After exploring the dark caves, visitors are greeted by the musical fountain show, which is conducted in the evening. It is organised during the peak tourist season and is the first show in Uttarakhand that is inspired by Disneyland. Here, visitors can sit and relax while beholding the stunning panorama of the hill station.
Recommendations Holiday Packages at MakeMyTrip
Nainital
1 May 2017, Monday
Clear
Max 19°
Min 11°
Feels like 18°
Mon

18°

Tue

19°

Wed

20°

Thu

20°

Fri

22°

Sat

23°

Sun

23°
{"Nainital":{"lat":"29.3803","long":"79.4636"}}